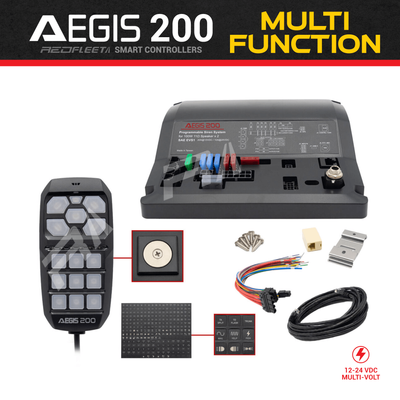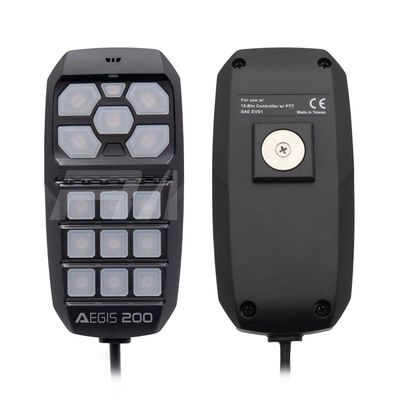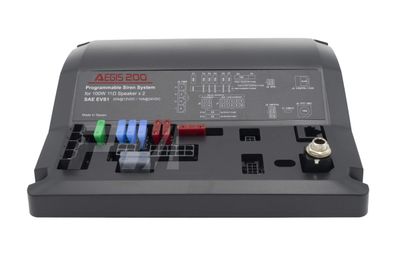 AEGIS 200 Watt Multi-Function Programmable Controller with Siren Amplifier & Public Address System
REDFLEET
$792.00
AEGIS 200 is our latest "All-In-One" Programmable Smart Controller for all your Lights, Siren and Public Address functions featuring up to 200 watts of high powered super loud audible tones. AEGIS 200 can support 1 or 2 individual 100 watt speakers with a dynamic microphone for maximum clarity.
Fully programmable and customizable configuration with PC software:

Button & Input style: Maintained, Momentary, Timer and etc.
Button Interlink, Interlock & Output port.
Tone selection: Primary, Override, Mixer, Hand-free Tone.
Multi-press function.

15-Button Hand-held Controller w/ built-in Mic, Button buzzer, 6-Traffic Arrow indicator LEDs and power magnet mounting mechanism.
12 Outputs (3x 15A, 3x 1 DA, 2x 2A, 4x 0.25A) and 1 dry contact relay output.
4 Positive or negative activated Logic Inputs and 1 voltage-variable Analogue Input.
12-24VDC multi-voltage Class D amplifier for low amp draw and clean sound.
200W amplifier supports one or two 100W speakers (11Ω).
Separate backlight control and covert mode (backlight disabled).
Selectable tone including Wail, Yelp, Phaser (Piercer), Hi-Lo, Mechanical, European Tone, etc.
Heavy-duty power and output connectors with easily accessible fuses.
Radio Re-Broadcasting (RRB) for audio replay.
"Record-n-Play" function: Record instant replayable messages up to 20 seconds.
"MIX TONE" function allows each speaker for a Multi-Speaker Effect.
Voltage detection, programmable for auto low voltage protection.

Technical Specifications
Input Voltage: 12-24VDC
Standby Current: 0 mA (w/o IGN wire) / <0.35A (w/ IGN wire)
Max. Current:
20A@12VDC /10A@24VDC (Siren functions only)
100A@12VDC / 50A@24VDC (w/ light outputs)
Siren Output Power: 200W (100W per Speaker) 11Ω
Light Controls:
3x 15A
3x 10A
2x 2A
4x 0.25A

AEGIS Product Dimensions
Control Remote Head: 134(L) x 67(W) x 27(H)mm
Relay Control Box: 217(L) x 190(W) x 46(H)mm
SKU: RF-AGS200-1S