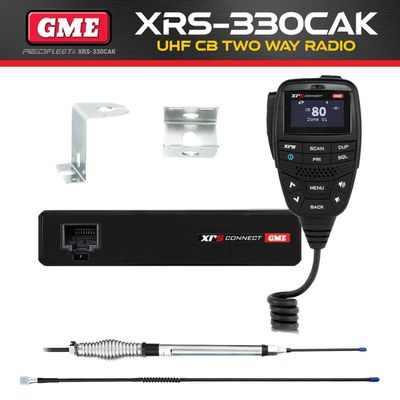 GME XRS-330CAK Antenna Kit UHF CB Two Way In Car Vehicle Radio
GME
$565.00
Why Pay $550.00
Sold
XRS-330CAK Antenna Kit is an exclusive value pack that comes standard with a 6.5dBi Hi-Gain Antenna with Spring and 2 Mounting Brackets.
GME XRS-330C XRS™ + REDFLEET Antenna Value Kit
The XRS Connect Touring pack is the latest addition to the revolutionary range of XRS radios, designed to be smart, adaptable and rugged.
Enabled by Bluetooth® Smart technology, the XRS Connect range are a new generation of connected UHF CB radios with unique features exclusive to GME; including the XRS Connect smartphone app, and the recently released, game-changing XRS Connect Location Services smartphone app.Combined with a market-leading Speaker Microphone featuring a bright, anti-glare OLED display and powerful 2 watt front-facing speaker, the XRS Connect range of radios offer outstanding performance in the toughest conditions.
Product Details
Bluetooth Wireless technology – Smartphone control
Professional grade OLED speaker microphone
Class-leading 2 watt front-facing speaker
User-customisable buttons
Super compact design
Download the XRS Connect App on Google Play or the App Store
In the Box:
XRS-330C Super Compact UHF CB radio with Bluetooth Smart Connectivity
Professional-grade speaker microphone (MC664B)
Elevated-feed UHF CB Antenna with Long Whip (6.5dBi)
Additional Interchangeable Short Whip (3.0dBi)
Includes Z Mounting Bracket
Includes Bull Bar Mounting Bracket
12V DC power Lead
Mic extension lead (LE040)
Mic extension adaptor kit (AD008)
Quick start guide
SKU: XRS-330CAK