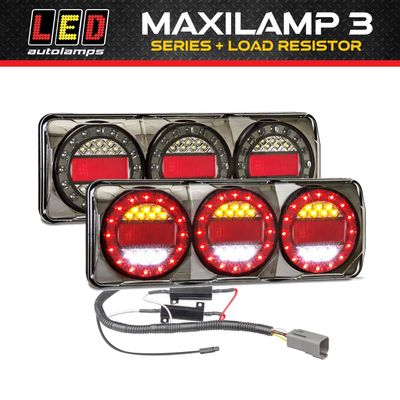 Genuine MAXILAMP 3 Series Tail Lights with Load Resistors & DT Plug SOMAXI2LR/450B
LED AUTOLAMPS
$528.00
Genuine L.E.D. AUTOLAMPS MAXILAMP C3XRW model comes standard with the following functions available as Paired Set or a Single Unit.
SOMAXI2LR/450B pre-wired with 2 x Load Resistors and Terminated with DT04-6P Male Connector
White Reversing Lights
Amber Indicator Lights
Red Tail Lights
Red Brake Lights
NOTE: When using load resistors in a vehicle that has lamp failure monitoring, failure of the lamp will not be detected.
C3XRW and C3XRWB are the same identical product, only difference is C3XRW comes in a plastic blister pack, whilst the C3XRWB comes in a white carton box which is the version we carry as it offers better protection during postage.
When you're looking for the highest quality LED Tail Light there is no passing up the Maxilamp Range. With aggressive styling and leading light output, the Maxilamps are the most in-demand tail light on the market.
The lights are ready for just about any application, whether you're looking to fit out your custom ute tray or just bring about some new life to an old trailer you just can't look past the Maxilamp Range.
These are MULTI VOLT meaning these will work flawlessly on vehicles that are 12 or 24 volts.
LED Autolamps back the entire Maxilamp series with an industry-leading 7 Year warranty! Knowing this, you can rest easy that these lights will outlast most vehicles!


COMBINATION LED TAIL LIGHT FEATURES:
Black Chrome Design
ADR approved
IP67 100% Water proof
Voltage Range of 12-24 Volt
7 Year Warranty by L.E.D. Autolamps Australia
370mm x 135mm x 40mm
Available as a Single or a Paired Set
FITTING INSTRUCTIONS:
Horizontally mount onto flat surface using bolts in back of lamp, run wire through hole in fixing surface. Please refer to ADR 13/00 for mounting instructions. Combination Stop/Tail/Indication LED lights are popular with Trucks, Trailers and caravans, these light provide excellent visibility.
The quality and innovative features of our LED products are tested and trusted by Australian manufacturing companies that incorporate our LED brand into their product designs. Our clients put our auto lights through some of the toughest conditions before they are used to ensure that their own customers are receiving the best product on the market that will not fail. LED Autolamps offer guarantees on their products in excess of the market and are the only company in Australia to offer LED auto lamp products with a lifetime guarantee. To date LED Autolamps have registered over 25 patented and designs that have been successfully used in the market place.
(LEDMAXILAMPC3XRWB) SOMAXI2LR/450B
SKU: MAXI3-2LR-PAIR