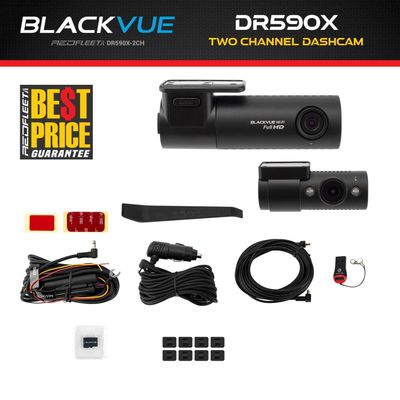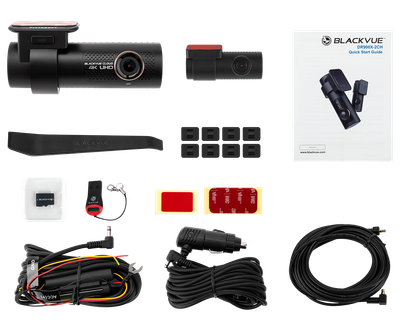 BLACKVUE DR590X 2160p Full HD 30FPS 2 Channel In-Car Vehicle Dash Camera Recording System WiFi
BLACKVUE
$960.00
ADD Performance Storage Cards
DR590X-2CH-32-PLUS - In Car Drive Recorder - FULL HD @ 30fps + Full HD 1080P @ 30fps - CMOS Sensor - 32GB SDHC Included from BLACKVUE.
REDFLEET uses high performance 64GB, 128GB and 256GB storage cards that have been tested and deployed widely with our fleet customers.
FEATURES
Dual Full HD Wi-Fi Dashcam
Full HD 1080p front and rear @30fps: the DR590X-2CH records Full HD 1080p videos of the front and back of your car at 30 frames per second, in a 139-degree wide view angle. With the front camera's Sony STARVIS imaging sensor, you get awesome image clarity day and night.
Built-in Wi-Fi: connect to your dashcam with the BlackVue App to adjust settings, check the view from the front and rear cameras or transfer files to your mobile device.
STARVIS is a trademark of Sony Corporation.
Native Parking Mode
With included Hardwiring cableDR590X can be hardwired to your vehicle's fuse panel for Parking Mode with the included Hardwiring cable. The dashcam will switch to Parking Mode automatically when vehicle ignition is turned off. Voltage cutoff and timer can be set in the BlackVue App.
Parking Mode accessories supportDR590X Series is also compatible with all BlackVue Parking Mode Kits and Batteries.
Built-in Wi-Fi and Optional GPS
Built-in Wi-Fi:The DR590X-2CH features built-in Wi-Fi to let you connect with the BlackVue App. A button lets you turn Wi-Fi on/off.
Additionally, you can configure the Wi-Fi activation behavior in the settings (Auto Turn On, Auto Turn Off).
USB port:The USB port lets you connect a GPS receiver.
Your videos are safe
Event Files Overwrite Protection: dashcams record in a loop, overwriting older files when the memory is full. BlackVue can prevent Event files (triggered manually or by impacts) overwriting. Up to fifty (50) files can be protected this way. You can choose to allow new Event files to overwrite past Event files, thus keeping the latest fifty.
Adaptive Format-Free File Management: this BlackVue-developed file system improves recording stability and requires less microSD card formatting.
SD Card Failure Alert: your BlackVue detects as soon as the microSD card fails and warns you with a "Please check SD card" voice alert.
Built-in Impact & Motion Detection
Automatically tags important filesWhile driving, your BlackVue detects impacts and sudden changes in speed. While parked, it also detects movements*.
Use the filters in the BlackVue App and ViewerAll videos are tagged (Normal, Event, Parking Mode motion or time lapse), so that you can easily find the relevant ones in the BlackVue Viewer for Windows and Mac OS or the BlackVue App for Android and iOS.
Specifications

Channel
2CH
Highlights
Full HD (Front + Rear), Wi-Fi, External GPS, Sony Sensor
Product Dimensions
Front: W 111.8 mm (4.40″) x H 34 mm (1.34″) / 87.8 (3.10 oz)Rear: W 67.4 mm (2.55″) x H 25 mm (0.98″) / 20.3 g (0.72 oz)
Rear Camera Connection
Analog cable
Memory Support
microSD card up to 256GB
Recording Modes
– Normal,– Event (Impact Detection / Speed Limit),– Parking Mode (Motion+Impact Detection)
Parking Mode
YES
Parking Mode Event Voice Notifications
YES
Imaging Sensor
Front: Sony STARVIS™ CMOS Sensor (Approx. 2.1MP)Rear: CMOS Sensor (Approx. 2MP)
Viewing Angle
Front: Diagonal 139°, Horizontal 116°, Vertical 61°Rear: Diagonal 136.8°, Horizontal 111.3°, Vertical 57.5°
Resolution Frame Rate
Front / RearFull HD @30fps – Full HD @30fps* Frame rate may vary during Wi-Fi streaming.
Video Codec
H.264 (AVC)
mage Quality and Bitrate Front/Rear
Highest: 12+10 MbpsHigh: 10+8 MbpsNormal: 8+6 Mbps
Format Free
YES (Adaptive)
Event File Overwrite Protection
YES
SD Card Failure Alert
YES
Scheduled Reboot
YES
Video File Extension
MP4
Wi-Fi
Built-in (802.11 b.g.n)
GPS
External (Dual Band: GPS, GLONASS)
Microphone
Built-in
Speaker
Built-in
Impact Sensor
3-Axis Acceleration Sensor
LED Indicators
Front: Recording LED, GPS LED, Wi-Fi LED, Front Security LEDRear: Rear Security LED
Button
Button: Wi-Fi ON/OFF
Operation Temperature
-20℃ – 70℃ (-4°F – 158°F)
SKU: DR590X-2CH-256