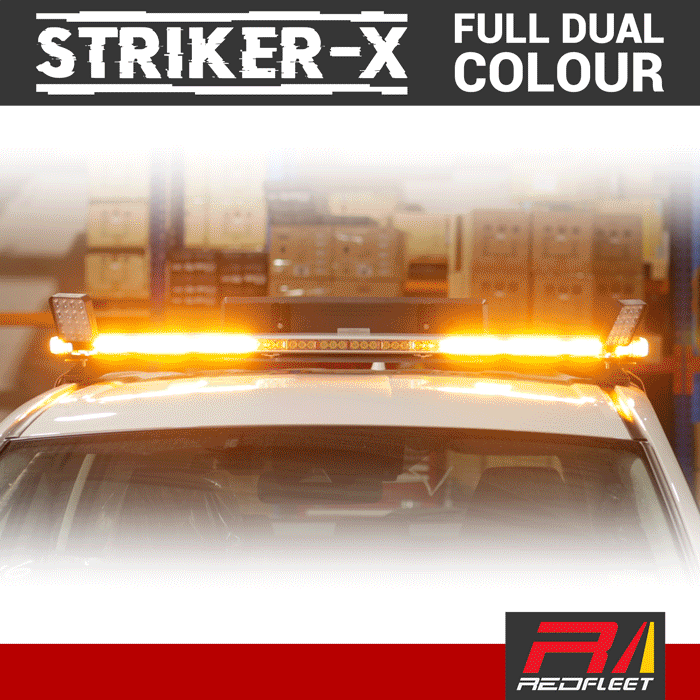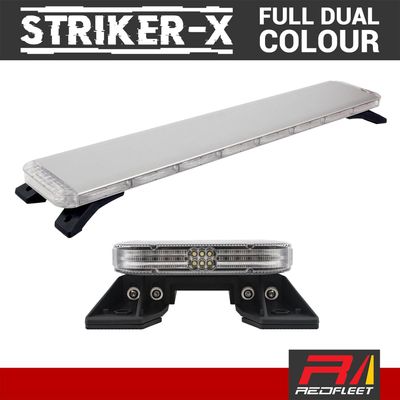 STRIKER-X (127cm / 50inch) "Dual-Colour" Heavy-Duty L.E.D. Warning Light Bar
REDFLEET
$2,992.00
This product option is unavailable. View other options.
UPDATE : AEGIS 8 MULTI-FUNCTION CONTROLLER INCLUDED
Introducing the all-new STRIKER-X Full "Dual-Colour" multi-function L.E.D. warning light bar featuring NEX-GEN L.E.D. technology with solid state electronics and heavy-duty alloy low profile housing design.
If you need a highly versatile heavy-duty lightbar platform, look no further than our STRIKER-X led lightbars. Featuring durable extruded alloy housing design with the flexibility of full dual-colour NEX-GEN L.E.D. technology allowing the same vehicle to perform multiple roles. For example, AMBER mode during non emergency situations, and RED + BLUE for emergency responses.

STRIKER-X warning light bars are perfect for local municipal city and town councils ranger enforcement, patrol and general works maintenance vehicles as they can utilise AMBER+MAGENTA or AMBER+RED or AMBER+WHITE colour combinations.
Example "Dual-Colour" Vehicle Roles in Australia:
AMBER + WHITE = General Purpose Day & Night Works
AMBER + MAGENTA = Ranger Enforcement & Support
AMBER + RED = General Purpose, Beach Patrol and/or Fire Mitigation
AMBER + RED/BLUE = Emergency Response & Public Safety
AMBER + GREEN = General Purpose & Wildlife Support
STRIKER-X Dual-Colour Multi-Function L.E.D. Warning Light Bars come standard with:
Heavy-Duty Low Profile Extruded Alloy Housing
Dual-Colour NEX-GEN L.E.D. Modules
Integrated Forward & Side Facing Work Lights
360 Degree Warning Functions in up to 2 Modes
STRIKER-X *Amber + White* Standard Features include:

Dual-Colour *AMBER+WHITE* 360 Degrees Flashing Modes

Single Colour *AMBER* Only 360 Degrees Flashing Modes
Single Colour WHITE* Only 360 Degrees Flashing Modes

Rear Cut-Off Functionality Available for "WHITE"
Forward Facing Work Lights *WHITE*

Take Down Lights *MIDDLE ONLY*
Super Take Down Lights *FULL FRONT*

Side Facing Alley Lights *WHITE*

Left Side Work Lights
Right Side Work Lights

Traffic Directional Arrow Modes *AMBER*

Left Sequential Arrow
Right Sequential Arrow
Split Sequential Arrow

Night-Time Dimming Mode

Reduces to 70% Brightness
CUSTOM ORDER SIZES
21cm / 8.3inch with 4 Modules
35cm / 13.5inch with 6 Modules
61cm / 24inch with 10 Modules
88cm / 34inch with 14 Modules
101cm / 40inch with 16 Modules *uneven*
114cm / 45inch with 18 Modules
(STOCKED) 127cm / 50inch with 20 Modules *uneven*

Most popular size for Sedans, Hatchbacks, Utes, and Suvs

141cm / 55inch with 22 Modules
154cm / 60inch with 24 Modules *uneven*
167cm / 65inch with 26 Modules
TECHNICAL SPECIFICATIONS
Full Dual Colour L.E.D. Modules
10-30VDC Multi Voltage
100% L.E.D. Technology
Solid State Design with No Moving Parts
IP67 Weather, Dust and Water Resistant
Heavy-Duty Alloy Housing Design
User Select-able Flashing & Rotating Patterns
True 360 Degrees Daytime Performance & Visibility
SKU: RF-STX127DTA-ARB-M5A