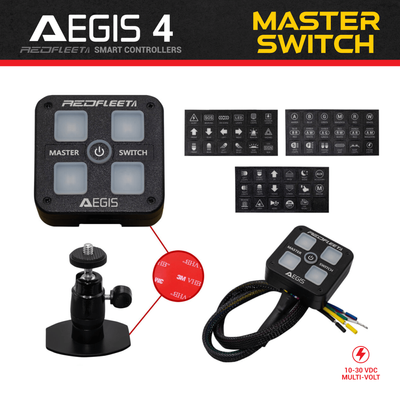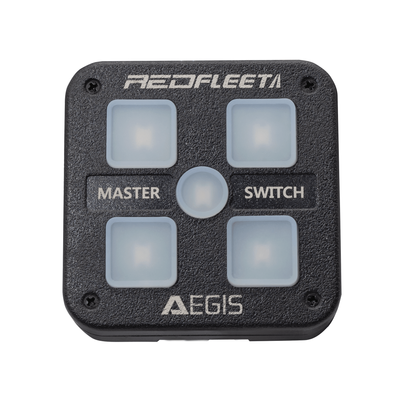 *NEW* AEGIS 4 Way Master Switch Universal Programmable Controller "All-In-One"
REDFLEET
$165.00
Why Pay $275.00
REDFLEET AEGIS 4 Way Master Switch is a universal controller designed for customers who operate a vehicle that only require no more than 4 individual switch functions. A good example of this setup would be a standard CRUISER-X Light Bar with a single switch for 360 degree warning lights, and three independent switches for Front, Left & Right side facing work lights. Perfect for security patrol and general utility work vehicles, the AEGIS 4 Way controller is small and compact in size, with easy to identify L.E.D. back-lighting for each switch which are also color coded for convenient night time operations.
The AEGIS 4 Way Master Switch Controller will be the standard controller for all our projects and light bars moving forward.
For maximum product flexibility, 3 sheets of switch label key decals are included with various unique icons and options for the customization of your AEGIS 4 Way Master Switch Controller.
***Please note that AEGIS 4 "Master Switch" controllers are not compatible with the AEGIS 8 Smart Controllers**

Technical Specifications
4 Independent Programmable Switches

Latching ON/OFF
Momentary PUSH/RELEASE

1 Master ON/OFF Override Switch
10-30VDC Multi Voltage Suitable for Cars, Trucks & Bikes
20 Amp Maximum Shared Load Capacity

Example: 1 x 10A + 3 x 5A
Example: 4 x 5A
Example: 1 x 20A
Example: 2 x 10A

All-In-One Unit for Easy Install
Night Time Keypad Back-light Illumination

GREEN for Standby
RED for Active
AEGIS 4 Master Switch Product Dimensions: 62(L) x 62(W) x 22(H)mm
SKU: RF-AGS4-MS