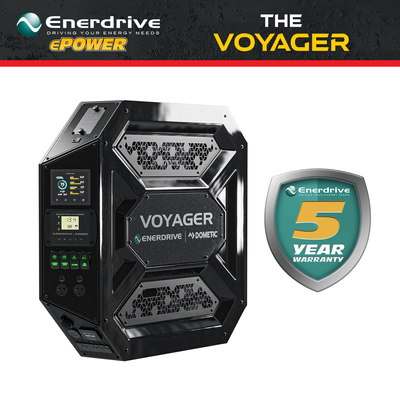 The VOYAGER ENERDRIVE Vehicle Canopy Off-Grid Power System 3000 Watt 100A Inverter-Charger 40A DC
ENERDRIVE
$6,995.00
THE VOYAGER POWER SYSTEM - The most powerful canopy system we have ever built.
Use Discount Code RFVOYAGER to Save $100 AUD
Through extensive research on new manufacturing methods and hundreds of hours of physical prototype testing, ENERDRIVE has developed an all new canopy system.
The VOYAGER power system is designed to power high-draw appliances of up to 3000 Watt and recharge a monstrous 100A from mains power or generator via the built-in inverter-charger system.
When paired with ENERDRIVE B-TEC range of lithium batteries, the VOYAGER power system sets a new industry benchmark in delivering truly next-generation off-grid power capabilities for your vehicle.
The VOYAGER power system also includes the very popular ENERDRIVE EN3DC40+ 40A DC2DC in-vehicle charger allowing you to charge your batteries from both solar panels and your vehicle's alternator whilst driving.
Stay in control as the VOYAGER power system allows you to monitor your batteries, loads, charge input and water/fuel tanks via the SIMARINE battery monitor or your smart mobile devices.
Stay connected with laser etched rocker switches, USB socket, ACCESSORY socket, ANDERSON PLUG socket and twin double-pole RCD protected power-points.
The VOYAGER power system is available in 3 unique orientations of LEFT SIDE, RIGHT SIDE or TOP CEILING mount backed by the ENERDRIVE 5 Year Warranty.

COMPLETE ACCESSIBILITY
The Voyager has been designed and built to give you access to every part of the build you may need without the hassle of finding tools to remove bulky covers or shifting everything within the canopy to access the side of your system.All of your loads connect via the custom flush mounted 1 in, 12 out fuse panel at the top of the system, main system breakers are located at the bottom of the system and a subtle finger hole in the bottom grill gives you access to the Combi's RCD reset switch.
DESIGNED TO MAXIMISE YOUR SPACE
The Voyager has been designed to make use of all available space in your canopy build. The octagonal shape allows you to push the Voyager closer to the door return on your canopy while still allowing access to the fuse panel when needed.The most prominent design feature of Voyager is the angled display panel. This panel allows you to read and access your instruments with greater ease no matter the orientation or mounting location.
HAND BUILT BY THE EXPERTS IN MOBILE POWER SOLUTIONS
The Voyager is completely built and wired in house using only the best components to guarantee that every system meets our incredibly high standards. ENERDRIVE | DOMETIC Accessories Range components provide the ultimate in accessibility, with every system coming as standard with our own 1 in/12 out fuse block, an individually monitored Anderson Plug outlet and 2 x 12V socket outlets.
VOYAGER SPECIFICATIONS:
830W x 700H x 155Dmm
5 year warranty
Available orientations: Left, Right & Top (Ceiling)
Charge via a vehicle input, Solar or Mains Power:

Vehicle: 12 or 24V DC 40A+ Output

Solar (DC2DC): up to 45V/800W

Mains 240V AC: 100A DC Charging

Inverter suitable for appliances that use up to 3000W of power for operation, such as induction cooktops, microwaves, coffee machines and more
Monitor battery, loads, charge input, and water/fuel tanks via the Simarine battery monitor or your mobile devices
Custom rocker switches available
Intelligent face panel design gives you access to:4 x Customisable laser-etched rocker switches
1 x USB socket
1 x Cig socket
1 x Anderson plug socket
1 x Twin RCD-protected powerpoint
1 x (Optional) Inclinometer
8 x ATO (Blade fuses) for easy sizing of your circuit protection
SKU: K-V3T01