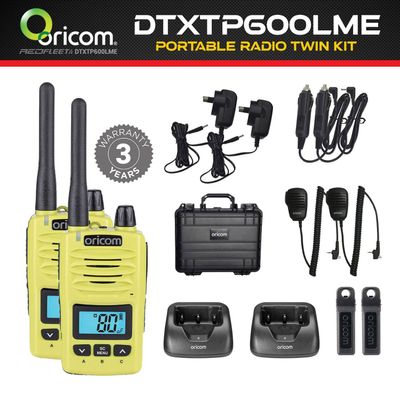 ORICOM DTXTP600LME LIME IP67 5 Watt UHF CB Handheld Two Way Portable Radio Twin Trade Pack Kit
ORICOM
$4,510.00
ORICOM DTXTP600LME LIME IP67 Waterproof 80 Channel 5 Watt Waterproof Handheld UHF CB Portable Radio Twin Pack! (3 Year Australian Warranty)
Introducing the DTXTP600PNK, the Ultimate LIME YELLOW Tradies Pack of Waterproof Handheld UHF CB Radios.
This Trade Pack includes 2 DTX600 5 Watt Handheld UHF CB Radios, as well as a range of accessories and a heavy duty case designed to take the brunt of any punishment thrown its way.
Featuring one of the largest backlit LCD displays in the Australian handheld radio market, the DTX600 is super compact and fits comfortably in the palm of your hand.
Water and dust proof rated to IP67, this radio will go wherever you need it to, ensuring reliable communication no matter what the situation.
ORICOM DTXTP600LME Key Features
Water and dust proof IP67 rating
Compact radio with large backlit LCD display
Switchable RF power (high: 5 watt, low: 1 watt)
3 Programmable instant channel buttons
80 channels
Fast charge technology supplied with 240v and 12v adaptors
Open/instant/priority scan
Die-cast metal chassis
Duplex (range extender)
Signal monitoring
Triple watch
Audio scrambler
Key lock function
Squelch tail on/off
38 CTCSS and 104 DCS codes
High-capacity 2600mAh Lithium-ion battery pack (up to 30 hours operating time^)
Rotary volume control
2.5mm jack socket with locking screw for optional accessories
Designed, engineered and produced in Korea
SKU: DTXTP600LME-10X