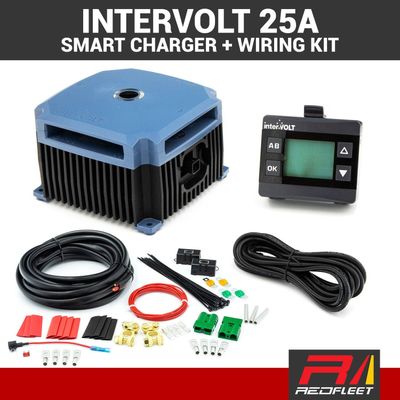 INTERVOLT 25 Amp + Optional Wiring Kit 12V DC to DC Dual Battery In-Vehicle Charger Solar
INTERVOLT
$396.00
INTERVOLT IN-VEHICLE DC to DC PRO BATTERY CHARGER 25 AMP - DCC1225ACK-RP with Optional Universal Wiring Kit.
The DCC Pro was developed for the purpose of charging and maintaining any auxiliary battery in an installation where the starting battery is used as the supply source. It has been designed for use in 4WDs, RVs, buses, coaches, caravans, campers or any vehicle with a 12VDC electrical system.
The DCC Pro performs as standalone power conversion device. It will manage a variety of different battery types according to their specific charging requirements. As no modi cation to the vehicle's original wiring is required this ensures the manufacturer's electrical system is not compromised in any way.
The DCC Pro is a highly innovative product with many unique features. It has the flexibility to adapt to almost any vehicle, old or new, simple or complex with or without an ECU controlled electrical system and even allows the operator monitor the charging status from the comfort of the cabin!
Product Features
The best in-class performance for a charger of this size
The DCC Pro is a true 25 Amp charger, that is, 25 Amps at 50 deg C all day, every day. In addition the DCC Pro will continue charging at reduced output right up to 85 deg C!
Remote monitoring from the comfort of the driving seat
The DCC Pro is kitted with an interactive, in-cabin display for remote monitoring of the auxiliary charging status from both main and solar power charging sources.
Solar ready no need for a separate regulator or relay
The DCC Pro is a complete MPPT solar charge controller capable of handling 250 Watts of power with up to 30% greater efficiency than a standard PWM regulator.

Technical Specifications
Input Voltage
Main: 9 17 VDC
Solar Input: 27 VOC max. (open circuit no load)
Solar Power 250 Watts nominal (300 Watts peak)
Continuous Rating 25 Amps @ 50 deg C
Current Draw
Charging Device: Including LED indicator 10mA
Remote Display: With backlight off: 10mA max
With backlight on: 30mA max
Boost Voltage
Standard Lead Acid: 14.4 VDC Nominal
Absorbed Glass Mat: 14.6 VDC Nominal
Gelified Electrolyte: 14.2 VDC Nominal-Lead Calcium: 14.8 VDC Nominal
Float Voltage 13.2 VDC Nominal
Electrical Protection
Thermal overload shutdown auto reset
Electrical overload shutdown auto reset
Under voltage disconnect auto re-connect
Over voltage disconnect auto re-connect
Reverse polarity protection of main terminals
Environmental Protection
Charging Device: IP67 (internal components only)
Remote Display: IP40 (not dust or water resistant)
Operating Temperature -20 deg C to +85 deg C
Operating Humidity Up to 98%
Charging Device Materials
Heatsink: E-Coated ADC-3 die cast aluminium
Blue Plastics: Temperature resistant PC/ABS alloy
Black Plastics: 15% glass reinforced PBT
Transparent Plastics: Temperature resistant PMMA
Remote Display Materials
Dark Grey Plastics: Temperature resistant PC/ABS alloy
Transparent Plastics: Temperature resistant PMMA
Terminal Material Tin plated brass
Terminal Fasteners 304 stainless steel
Conformity AS/NZS CISPR 11:2004 for EMC
Dimensions
Charging Device: 112 x 112 x 75mm (including terminal cover)
Remote Display: 60 x 36 x 59mm (including mounting bracket)
Weight
Charging Device: 690 grams
Remote Display: 55 grams

What's Included in the Universal Wiring Kit ?
6m Twin Core Double Insulated BLACK + RED 8 B&S 74A Rated Battery Cable
2 x MIDI Fuse Holders with Cover (6mm Bolt Points)
2 x 40A MIDI Fuses
2 x 30A MIDI Fuses
4 x 16-6 Cable Crimp Lugs
4 x 16-8 Cable Crimp Lugs
4 x BLACK Heatshrink
4 x RED Heatshrink
3 x Cable Joiners & RED Heatshrink
2 x Battery Terminals
Pack of Automotive Cable Ties
1 x 10A Mini Blade Fuse with Tap In Fuse Holder
1 x 4m x 4mm RED Automotive Wire Cable
2 x GREEN Anderson Connectors
SKU: DCC1225ACK-RP