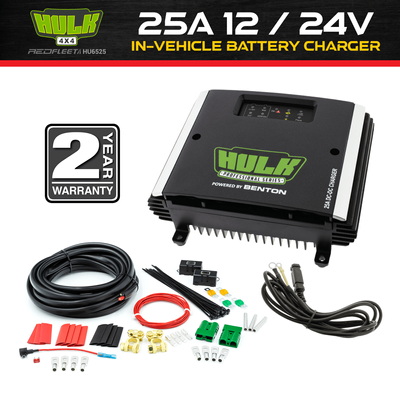 HULK 4X4 25 Amp 12V / 24V DC to DC Dual Battery In-Vehicle HU6525 Charger with Solar
HULK 4X4
$395.00
HULK 4X4 25 Amp 12V / 24V DC HU6525 DC to DC In-Vehicle Dual Battery Charger System + Universal Wiring Kit.
The Hulk 12 Volt 25 Amp is a fully automatic 6-Step In-Vehicle or Under-Bonnet DC to DC charger, designed to keep your auxiliary batteries fully charged to their optimum level whilst driving or with solar panels when vehicle is parked. The HU-6525 is rugged and also suitable for installation in marine applications.
ADDITIONAL INFORMATION
Automatically selects the input: Alternator, Solar, DC based on active input with no manual switching required
Ignition connection allows low input selection and Solar MPPT regulator allows to work with 12V, 18V or 24V Solar Panels
7 Stage Multi-Chemistry Switchmode charging provides charging for all standard Lead-acid, GEL, AGM, Calcium and Lithium auxillary batteries
Dual charging modes enables to work with fixed voltage (standard 12V or 24V alternators) and variable voltage alternators (smart)
Wide voltage input of between 9 - 42 Volt provides an option of charging from both 12V and 24V vehicle systems
Using the temperature sensor, continually adjusts its charge rate to suit battery temperature protecting it against over-charging and over-heating
Can be connected in parallel to provide more output when using high output alternators
IP67 Rated, sealed against dust or water ingress and safe to operate in -20°C to +85°C
What's Included in the Optional Wiring Kit ?
6m Twin Core Double Insulated BLACK + RED 8 B&S 74A Rated Battery Cable
2 x MIDI Fuse Holders with Cover (6mm Bolt Points)
2 x 40A MIDI Fuses
2 x 30A MIDI Fuses
4 x 16-6 Cable Crimp Lugs
4 x 16-8 Cable Crimp Lugs
4 x BLACK Heatshrink
4 x RED Heatshrink
3 x Cable Joiners & RED Heatshrink
2 x Battery Terminals
Pack of Automotive Cable Ties
1 x 10A Mini Blade Fuse with Tap In Fuse Holder
1 x 4m x 4mm RED Automotive Wire Cable
2 x GREEN Anderson Connectors
SKU: RF-HU25A