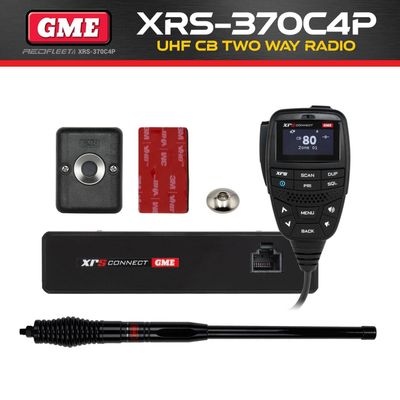 GME XRS-370C4P 4WD Pack UHF CB Two Way In Car Vehicle Radio AE4704B MB207 XRS-370C
GME
$897.00
GME XRS-370C4P 4WD Pack includes a GME 58cm 2.1dBi AE4704B Antenna Kit with Magnetic Mic Holder.
The XRS 4WD pack is the latest addition to the revolutionary range of XRS radios, designed to be smart, adaptable and rugged.

Enabled by Bluetooth® Smart technology, the XRS Connect range are a new generation of connected UHF CB radios with unique features exclusive to GME; including the XRS Connect smartphone app, and the recently released, game-changing XRS Connect Location Services smartphone app.

Combined with a market-leading Speaker Microphone featuring a bright, anti-glare OLED display and powerful 2 watt front-facing speaker, the XRS Connect range of radios offer outstanding performance in the toughest conditions.

The XRS Connect 4WD Pack pairs the top-of-the-line XRS-370C Compact UHF CB Radio, with the Heavy Duty AE4704B radome antenna, the perfect solution for those users looking for the ultimate communications setup for their hardcore 4WD.
XRS-370C Product Details:
Rugged, die-cast chassis with built-in speaker
Bluetooth Wireless technology – Smartphone control
Professional grade OLED speaker microphone
Class-leading 2 watt front-facing speaker
User-customisable buttons
Download the XRS Connect App on Google Play or the App Store
XRS-370C4P In the Box:
XRS-370C UHF CB radio with Bluetooth Smart Connectivity
Professional-grade speaker microphone (MC664B)
Includes 58cm 2.1 dBi AE4704B Black Radome Antenna
Magnetic Microphone mount and radio mounting bracket
12V DC power Lead
Mic extension lead (LE040)
Mic extension adaptor kit (AD008)
Quick start guide
Optional Add-On 105cm 6.6dBi AW4705B Black Radome Whip
SKU: XRS-370C4P-105CM-MB042B