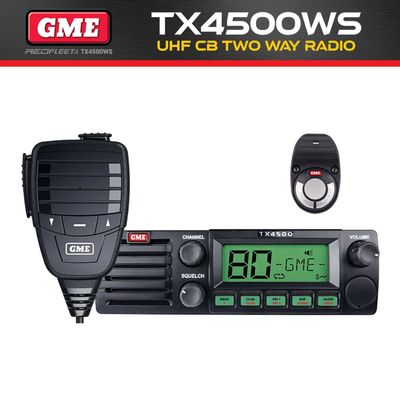 GME TX4500WS DIN Size UHF CB Two Way In Car Vehicle Radio with Wireless PTT
GME
Sold
TX4500WS DSP DIN UHF radio, Wireless PTT, ScanSuite
UHF radio powered by digital signal processing for Pure Sound
For some time vehicle manufacturers have recognised the advantage of steering wheel control over auxiliary devices, this feature is common place today, offering enhanced safety, convenience and ease of operation.
GME, the world's largest manufacturer of UHF CB Radio also acknowledges the critical benefit of steering wheel located, finger tip controls and is now offering a unique wireless steering wheel mounted PTT.
Two additional buttons offer user programmable functionality, including up/down channel change, scan function and priority channel selection.
Whether you are a professional truck driver or an occasional road user, the innovative GME W1 wireless PTT and hands free microphone, available in the TX4500W, TX3510W and the TX3520W, is set to revolutionise both your driving safety and radio communications experience.
This model also comes equipped with GMEs newest digital scanning technology - ScanSuite™
Australian made UHF CB radios now have a 5 year warranty.
Product Details
Steering wheel mount for convenient and safe operation.
Flexible mounting options.
Large PTT button.
Two user programmable function keys.
Hands-free microphone with 2.4 m lead.
5 year warranty.
In the Box:
TX4500S
Mounting Cradle
Microphone
Microphone Clip
DC Lead and screw pack
W1 wireless remote
Hands-free microphone
Steering wheel clamp
Rear dress plate and fixings
Adhesive pad