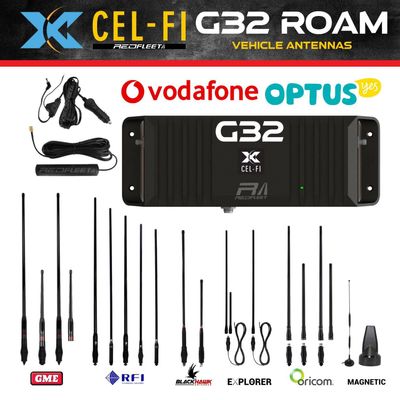 VODAFONE OPTUS G32 CEL-FI GO Mobile Cellular Signal Booster Repeater Amplifier Antenna Kit NEXTIVITY
NEXTIVITY
$770.00
G32 BLACK Edition CEL-FI GO supports simultaneous dual 3G and 4G band operations in a weatherproof enclosure design for the most rugged mobile vehicle or stationary building applications.
SPECIAL OFFER FOR VODAFONE AND MOST OPTUS NETWORKS
*NOT SUITABLE FOR OPTUS LOW BAND 28L 700mHz. ALL BANDS ON THE VODAFONE NETWORK ACCEPTED.
Australia's most popular carrier approved G32 CEL-FI GO Mobile Signal Booster product available for VODAFONE network designed for both mobile vehicle and stationary property applications. As the 4G mobile network provides more coverage across regional and rural areas of Australia, the G32 device will still be relevant for many years to come even when 3G is finally switched off around mid 2024. G32 CEL-FI GO device supports dual band operation simulatenously.
Click Here to Check your VODAFONE Mobile Signal Coverage
G32 ROAM CEL-FI GO Mobile Signal Booster Kit with your choice of Vehicle Antennas.
91cm EXPLORER Single Whip Black Radome Antenna Kit

6.0 dBi Mid-Gain Performance (General All Rounder)

Detachable Radome Whip with Medium Duty Spring

5M Coaxial Low-Loss Cable with SMA Connector

122cm + 42cm EXPLORER Twin Whip Black Radome Antenna Kit

7.5 dBi Hi-Gain & 3.0dBi Low-Gain Performance (Ready for All Terrains)

5M Coaxial Low-Loss Cable with SMA Connector
Detachable Radome Whip with Medium Duty Spring
Stationary & Mobile Solutions
The Cel-Fi GO G32 (or Cel-Fi GO X) Indoor/Outdoor solution is ideal for use in
commercial properties, government buildings, small manufacturing operations,
agricultural settings, rural areas, IoT applications, businesses and large homes for up
to 15,000 ft2 per system (1,500 m2). A variety of Cel-Fi donor and server antennas can
be used based on environmental needs.
The world's first All-in-One Cellular Coverage Solution for both indoor/outdoor in Stationary and Mobile applications.
Designed to solve cellular coverage issues for indoor and outdoor applications, the Cel-Fi GO G32 Smart Signal Repeater is the first carrier-class cellular coverage solution to offer industry-leading signal gain. Through artificial intelligence and Nextivity's award-winning IntelliBoost® signal processing, GO G32 delivers the industry's best voice and data wireless performance. The system is also guaranteed to be unconditionally network safe and does not interfere with other wireless devices. Plus, GO G32 is NEMA 4 rated to provide reliable coverage in any setting.
Industry-Leading Signal Gain: By leveraging Nextivity's award-winning IntelliBoost® chipset, GO is engineered to deliver unmatched cellular performance and signal gain up to 100 dB, which is over 1000x stronger than any other solution.
Indoor/Outdoor NEMA 4 Rating: GO G32 is built to offer reliable cellular connectivity for in- door and outdoor environments. With its NEMA 4 Rating, the system can withstand harsh weather conditions that include water, dust, and dirt.
IN THE BOX
CEL-FI GO G32 MOBILE
Automobile Auxiliary Power Adapter (CLA)
Internal Server Antenna
Mounting Hardware
Ground Cabling
Choice of External Antenna
SKU: G32-V-ANC67