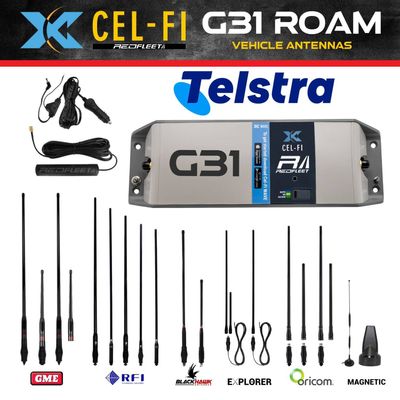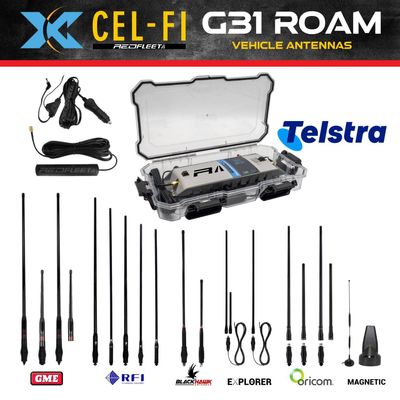 TELSTRA G31 CEL-FI GO Mobile Cellular Signal Booster Repeater Amplifier Antenna Kit NEXTIVITY
NEXTIVITY
$1,067.00
We have secured the majority of Australia's last remaining G31 TELSTRA CEL-FI GO Units at a very special price for all those who are using the TELSTRA cellular network. Whether you are in a metropolitan area and would like to improve the reception in your home or travelling across regional areas and wanting to maintain a stronger signal in your vehicle, this G31 TELSTRA unit is perfect for you.
Why Buy the G31, when the R41 is available soon ?
4G LONG-TERM FUTURE - G31 supports 3G & 4G, so even when 3G eventually switches off, 4G will still be the cellular band for calls and data in regional and rural areas across Australia with the largest coverage for many years to come. 3G Telstra network will remain operational till June 2024 according to publicly available articles.
SAVE MONEY - R41 is at least a few hundred dollars more than the outgoing G31, so is it necessary to spend more when 4G may be the only reception you get in your area ?
IS 5G NR LOW BAND IN YOUR AREA - Telstra's 5G NR Low Band 850MHz (n5) is similar to existing 3G 850MHz (B5), so there are rumours that the G31 may be able to repeat the future 5G NR Low Band depending on what NEXTIVITY and the Carriers allow.
DIFFERENT TYPES OF 5G - High Speed 5G commonly found in major cities in Australia are known as 5G Mid Band operating at 3500Mhz (n78) bands. The new R41 DOES NOT support High Speed 5G Mid-Band but it can support the 5G NR Low Band when it becomes available in regional and rural areas via repurposed 3G and 4G bands.
Read more about Australian Phone Networks & Frequencies here
https://www.whistleout.com.au/MobilePhones/Guides/Will-my-phone-work-in-Australia-carrier-network-frequencies

SKU: G31-T-CDQ7