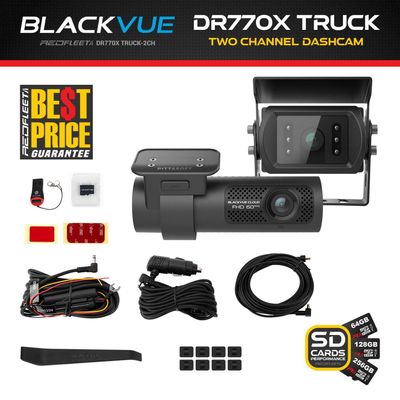 BLACKVUE DR770X Truck Full HD 60FPS 2 Channel In-Car Vehicle Dash Camera Recording System WiFi
BLACKVUE
$1,029.00
ADD Performance Storage Cards
The BlackVue DR770X-2CH Truck offers a commercial level dash cam for many different applications with a front facing dash cam and resistant external rear camera.
REDFLEET uses high performance 64GB, 128GB and 256GB storage cards that have been tested and deployed widely with our fleet customers
The perfect Dashcam for trucks and heavy vehicles
The external waterproof rear cam with embedded IR lights and up to 15m (49ft) coaxial cable is ideal for most large vehicles. Catch detailed footage of the front surroundings of your vehicle at 1080p Full HD 60FPS and rear at 1080p Full HD 30FPS.

Improved Sony STARVIS Sensor
The Sony STARVIS™ image sensor that equips the DR770X Series front and rear cameras delivers outstanding low-light performance. The back-illuminated sensor is capable of capturing an unprecedented amount of detail in both shadows and highlights. The DR770X features an upgraded CPU for better performance and image quality.

Enhanced night Vision Capabilities
The newly integrated Sony STARVIS™ allows for enhanced Night Time Vision recording, allowing you to easily see foreign objects in low light conditions.

LEDs for short range night vision
With LED's housed in a rear water-resistant external camera unit, your vehicle can record close encounters in the dark to ensure you're always protected with video recording proof. Note: The camera will see close distances but not long range objects.
Key Specifications
Model Name: DR770X-2CH Truck
Channel: 2 Channel (front + rear external)
Colour / Size / Weight
Front: Black / Width 118.5 mm x Height 36 mm / 104 g
Rear: Black / Width 65 mm x Height 36 mm / 157g
Memory: microSD Card (64 GB/128 GB/256 GB)
*BlackVue or Samsung Pro MLC Endurance SD cards must be used.
Speaker & GPS: Built-in
LED: Front: Security LED, Recording LED, Touch Sensor LED, Bluetooth/Wi-Fi/LTE LED
Rear: Security LED
Sensor: 3-Axis acceleration sensor
Battery or Capacitor: Built-in Super Capacitor
Capacitor's are better as they are not at risk of heat damage which batteries face.
Camera + Recording
Recording Mode
Normal Recording
Event Recording (Impact Detection)
Manual Event Recording
Parking Mode Recording (Impact and Motion Detection)
For extended Parking Mode recording, a B112 or B124X dedicated battery pack is recommended.
Button: Wi-Fi: Enable or disable the WiFi function. Proximity sensor: Voice recording on/off
Touch the button or it recognises when a hand approaches to within about 2cm.
Camera: Front: STARVIS™ CMOS Sensor (Approx. 2.1 M Pixel)
Rear: STARVIS™ CMOS Sensor (Approx. 2.1 M Pixel)
Illumination Sensor and External Rear Camera Lights: 940nm, 6 Infrared (IR) Lights
IR is on the external (rear) camera only
External Camera: Rugged waterproof enclosure for external mounting
Viewing Angle: Front: Diagonal 139°, Horizontal 116°, Vertical 61°
Rear: Diagonal 116°, Horizontal 97°, Vertical 51°
Format Free: Yes (Adaptive)
Resolution/FPS Front Camera: Full HD (1920×1080) @60fps
Resolution/FPS Exterior Camera: Full HD (1920×1080) @30fps
Frame rate is different during Parking mode and Wi-Fi > streaming
Image Quality
Highest (Extreme): 25 + 10 Mbps
Highest (12+ 10 Mbps)
High (10 + 8 Mbps)
Normal (8 + 6 Mbps)
Video Codec: H.264 (AVC)
Video File Extension: MP4
Operating
Input Voltage: DC 12V – 24V (3 pole DC Plug: (Ø3.5 x Ø1.1), MAX 1A/12V)
Note: USB cables are only 5V and will not power on the dash cam
Current Consumption
Avg. 390mA (4.68W at 12V, when GPS and Wi-Fi are ON)
Avg. 300mA (3.6W at 12V, when GPS and Wi-Fi are OFF)
* Approx. 60mA increase in current when IR LEDs are ON.
Actual power consumption may vary depending on use conditions and environment.
Voltage Cut-off: Built-in Variable Voltage Cut-off System - 11.8V – 12.5V. 22.8V – 24V
Operating & Storage Temp.: -20℃ – 80℃ (-4°F – 176°F )
High Temperature Cut-off: Approximately 80℃ (176°F)
Other:
Wi-Fi: Built-in (802.11n 2.4~2.4835 GHz)
Software: BlackVue Viewer* Windows 7 or higher and Mac OS X Sierra (10.12) or higher.
GPS: Built-in (Dual Band: GPS, GLONASS)
Application: BlackVue Application (Android 5.0 or higher, iOS 11.0 or higher)
Some videos may not play on HTC mobile devices due to the resolution of the files
Microphone: Built-in
Origin: Made in Korea
Certifications: Front: FCC, ISED, CE, UKCA, RoHS, Telec, WEEE
Rear: FCC, ISED, CE, UKCA, RoHS, WEEE
Warranty: 36 Months Warranty (Australian Customers Only)
SKU: DR770X-2CH-TR-256