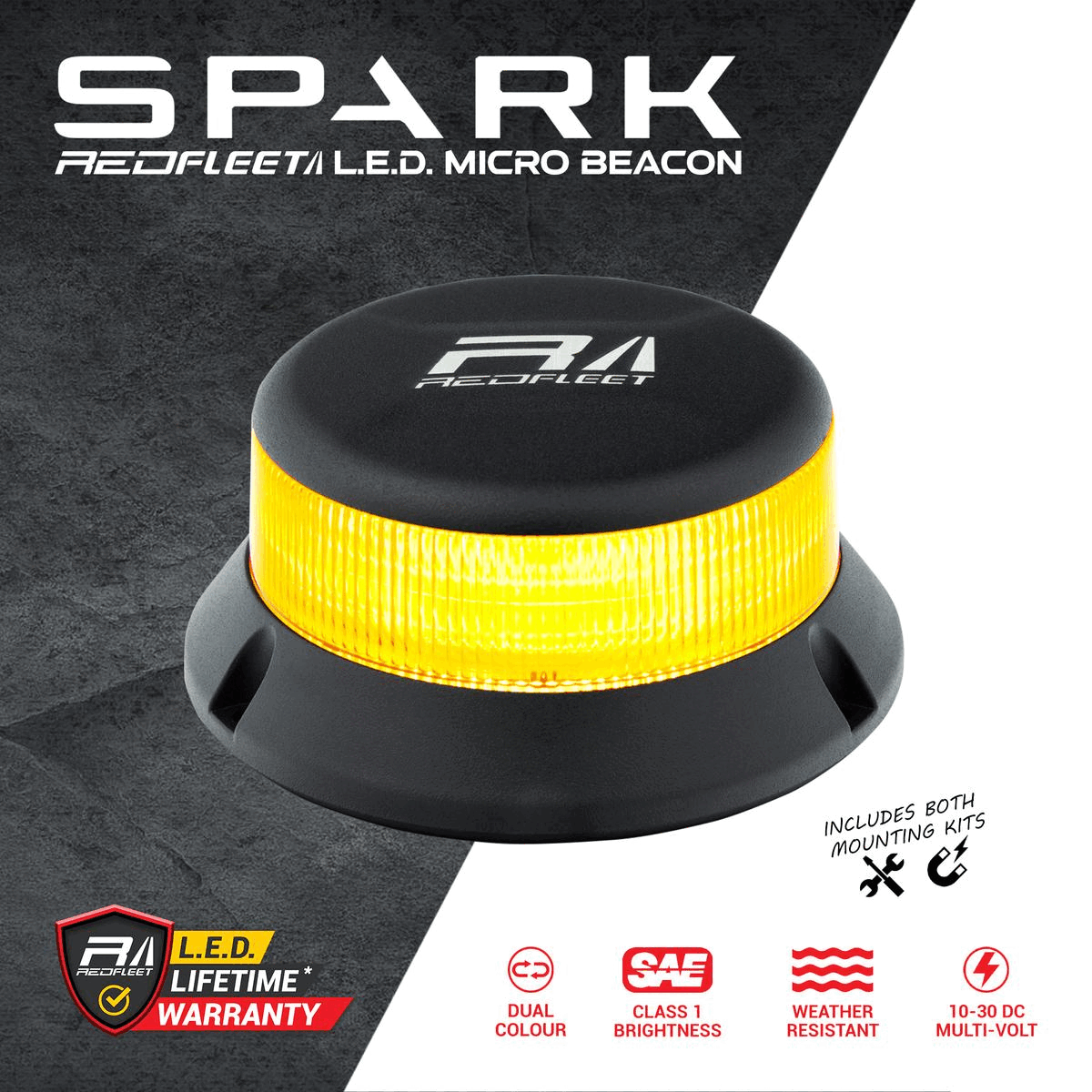 SPARK Series 32 L.E.D. AMBER + RED "Dual-Colour" Micro Beacon Flashing & Rotating​ Light
REDFLEET
$1,980.00
The Brightest Micro Beacon Available in Australia, now available in two full colours!
Supports independent and alternating colour control when hardwired
- example - AMBER for "MACHINE-IN-OPERATION" and GREEN for "SAFE-TO-APPROACH".
SPARK 32 L.E.D. AMBER + RED Full Dual Colour Beacon is Australia's most powerful micro sized roof mounted warning light available in full dual colour technology! Featuring the latest micro optic reflector lens design, SPARK 32 beacons are brighter, more reliable and affordable in a very small package.
Every SPARK 32 L.E.D. Beacon comes standard with 3 Bolt for Fixed Mount & Magnetic Mounting Kit with Dual Switch Cig Plug Wire Lead. This allows customers to have greater flexibility with their product without having to worry about stocking 2 variants
When comparing to other beacons, the SPARK Series beacons feature the latest L.E.D. technology and 100% solid state electronics design with no moving parts or globe replacements ever required. Users can easily select flashing, rotating or combination patterns at different speed levels for each unique application. SPARK beacons are factory tested to meet and exceed SAE J845 Class 1 performance standards.
Technical Specifications
REDFLEET L.E.D. LIFETIME* WARRANTY
SAE J845 Class 1
ECE R65 Class 2
MAX 3A @ 12VDC
32 Long Life Colour Rich L.E.D.s
Superior Day Time Clarity & Performance
Visually Larger Warning Signal
10-30VDC Multi Voltage Suitable
User Selectable Flashing & Rotating Patterns

Triple Pattern Memory Technology

Colour 1
Colour 2
Colour 1 + 2

Exclusive Micro Reflector Optics Design
UV Stabilised PC Lens
IP66 Weather Resistant
100% Solid State Technology
No Replacement Globes or Gears Required
Available in the following L.E.D. Colours

AMBER + WHITE
AMBER + GREEN
AMBER + BLUE
AMBER + RED
RED + WHITE
SPARK 32 L.E.D. Beacon Dimensions:
Height 50 / 55mm(Fixed / Magnetic)
Diameter 110 / 90mm (Base / Lens)
SKU: RF-S32K-AR-18X