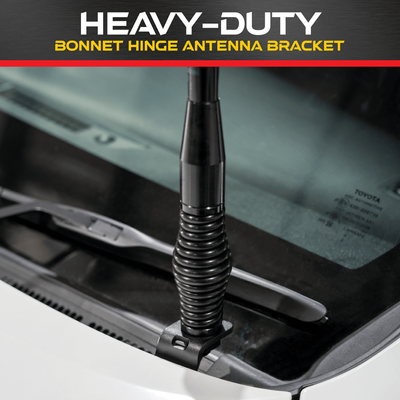 REDFLEET Black Heavy-Duty Bonnet Hinge Antenna Aerial Mount Bracket for UTE, SUV, 4WD & 4X4 Vehicles
REDFLEET
$77.00
This product option is unavailable. View other options.
As one of the largest retailers of UHF CB Radios & Mobile Signal Booster Antennas in Australia! We have partnered with a local Australian manufacturer to supply us with a range of Heavy-Duty Bonnet Hinge Antenna Aerial Mounting Brackets to suit a variety of popular 4X4, SUV, Utility and Off-Road Adventure vehicles!
Customers who purchase large antennas that feature a heavy-duty thick spring base require a solid mounting point to ensure that the antenna is mounted properly and does not sway about. These heavy-duty radome antennas are originally designed to be mounted onto Bull Bars that have prefixed antenna mounting tabs that can handle the weight and size.
Bonnet Hinge Mounting Brackets provide a solid alternative mounting option for those not wanting a bull bar or nudge bar as these brackets are suitable for all vehicle antennas, aerials, mine flags and buggy whips.
Positioned to clear wipers, windscreen & associated plastic trim when opening or closing your bonnet
Only passenger side mount available at this stage due to legalities with Road Authorities
Proudly Australian Designed & Manufactured
Laser cut, CNC folded, edge rounded & powder coated in texture matte black
304 grade stainless steel to create a lifetime of hassle-free maintenance
Easy installation & fitment
Vehicle Makes & Models with compatible Bonnet Hinge Mounting Brackets
MY22+ FORD RANGER + EVEREST *NEXT-GEN*
MY15-21 TOYOTA HILUX + FORTUNER
MY12-21 FORD RANGER PX P375
MY 11-22 VOLKSWAGEN AMAROK
MY19+ MITSUBISHI TRITON
MY21+ ISUZU D-MAX + MU-X
MY21+ MAZDA BT-50
TOYOTA LANDCRUISER LC200
TOYOTA LANDCRUISER LC300
TOYOTA PRADO LC150
MY20+ DODGE RAM 1500 DT
SKU: RF-ABM-RH-LC200