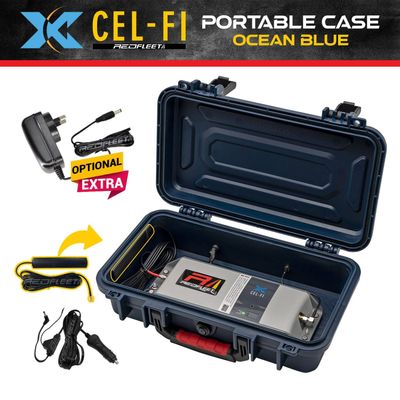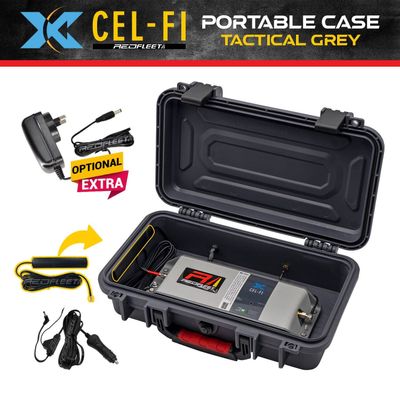 G31 CEL-FI GO + Portable Carry Case 3G 4G Mobile Signal Booster Kit TELSTRA or OPTUS
NEXTIVITY
$1,100.00
Sold
IN-STOCK - NEW OCEAN BLUE or TACTICAL GREY!
Telstra CEL-FI GO G31 Signal Boosters are Australian Carrier Approved by Telstra & Optus + ACMA Exempt for use in Australia.
Optus compatible units are available at a higher price.
What Is Included:
1 x CEL-FI GO Telstra Network Compatible Mobile Signal Repeater Device

Internal Signal Antenna
12V DC Cig Plug Power Lead
Suitable for all Carriers that operate on the Telstra 3G, 4G & 4GX Network
Portable Carry Case with Plug & Play Power & Antenna Ports

Dimensions: 370 (L) x 210(D) x 105 (H) mm
Multiple External Antennas Options Available

External Antennas are Required & Recommended for Optimum Performance
Telstra Network is by far the most popular for the CEL-FI GO product in Australia due to Telstra's extensive rural and regional network coverage.

The Cel-Fi GO Mobile Smart Signal Repeater, the first ACMA approved carrier-class mobile cellular coverage solution to feature industry-leading 70/100 dB system gain and Nextivity's unconditional network safe guarantee. Cel-Fi GO Mobile leverages artificial intelligence and award-winning Intelliboost signal processing to deliver the industry's best voice and data wireless performance for mobile subscribers on the move. Cel-Fi GO Mobile is IP54 rated weather resistant and does not interfere with other wireless devices. This multi-band solution is ideal for trucks, vehicles, RVs, and boats.
3G / 4G / 4GX Voice and Data
Multi-User Mobile Coverage
Multi-Band Support
Indoor / Outdoor IP54 Rated
Network Safe
The Cel-Fi GO has a rugged design to withstand harsh conditions including dust and water exposure. Cel-Fi GO utilizes nanotechnology to produce a thin film coating across the entire PCB assembly. This coating, combined with an industrial design for harsh conditions, enables the device to support weather conditions that include water, dust, and dirt.
SKU: G31-T-PC-LITE