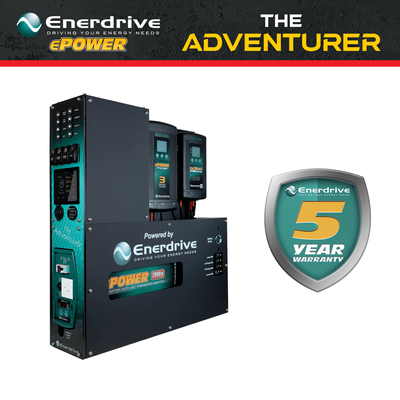 The ADVENTURER ePOWER Prebuilt Advanced ENERDRIVE Power Systems
ENERDRIVE
$5,575.00
MADE TO ORDER - 4 to 6 Weeks Lead Time - Made in Queensland.
PRODUCT FEATURES
(Dimensions: 630L x 155W x 665H mm) @ 18kg
With Enerdrive breaking into the 4WD canopy market in recent years, we have been consistently asked by manufactures and end users to come up with a compact power solution to operate all of the electrical equipment that is ending up in the back of these canopies. From a simple system to operate a fridge and a couple of lights to a full on power station, these are the type of systems we have been asked for.
After many brainstorming sessions and 3D modelling designs, Enerdrive have produced 3 models to cover just about any customer request for power in their canopies.

The Adventurer by ENERDRIVE:

This system is designed for the end user requiring maximum power requirements along with AC charging ability and 230v Inverter power.
Available in 3 different versions;
K-ADVENTURER-01 inc ePRO PLUS Battery Monitor
K-ADVENTURER-02 inc Simarine Battery Monitoring
K-ADVENTURER-03 inc Simarine & Individual Load Monitoring
The Adventurer 01 for example consists of the following items
Enerdrive ePOWER DC2DC40+ Vehicle/Solar Charger
Enerdrive ePOWER 40A AC charger
Enerdrive ePOWER 2000W AC Transfer Inverter
1 x ePRO Plus Battery Monitor (K-ADVENTURER-01)
1 x 1m 70mm2 Main Battery Cable Connection Kit inc Main fuse
4x Pre-wired Circuit Breakers for main power equipment
4 x Contura switches for Lights & Auxiliary loads
4 x additional Circuits Breakers for Air/Water Pumps and more
Main System & Inverter Hi-Amp Circuit Breakers
1 x 12v CIG & 1 x Dual 2.4A USB sockets come standard. You can choose a mixture of Twin USB 2.4A Hi Amp sockets to charge your mobile devices or mix it up with 2 x 12v Output Socket. The choice is yours at time of order.
Battery Reset button for kick starting your flat battery from the DC2DC Charger
Simarine LCD Battery WIFI Monitoring System with option to incorporate individual load/charge information. (K-ADVENTURER-02 & 03)
Optional Water/Fuel Tank module also available. (K-ADVENTURER-02 & 03)
All Adventurer systems are pre-wired by Enerdrive so the only cabling required at installation time is load outputs, battery cable connection kit & vehicle/solar/tank inputs.
All systems are built into a unique compact box arrangement and designed to mount for example on either the front or rear bulkhead of a vehicles canopy. The systems are available in either Left (Passenger side) or Right (Drivers side) or Roof Mount installation. Any brand of battery is suitable from Wet Sealed, AGM, Gel and Lithium.
SKU: K-ADVENTURER-03-R