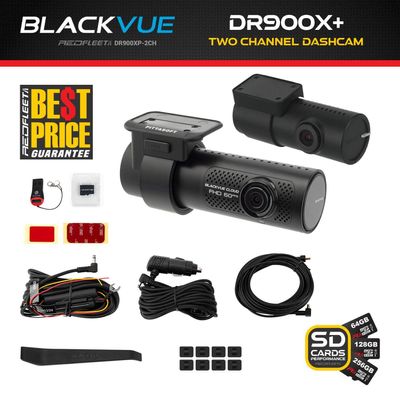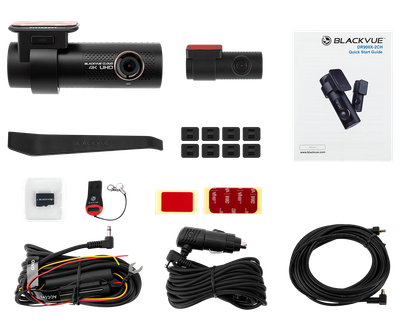 BLACKVUE DR900XPLUS 2160p 4K 30FPS 2 Channel In-Car Vehicle Dash Camera Recording System WiFi & GPS
BLACKVUE
$1,265.00
ADD Performance Storage Cards
DR900X-2CH-32-PLUS - In Car Drive Recorder - 4K UHD @ 30fps + Full HD 1080P @ 30fps - CMOS Sensor - Built in Voltage Monitor -Optional External LTE Module - 32GB SDHC Included from BLACKVUE.
REDFLEET uses BLACKVUE compatible high performance 64GB, 128GB and 256GB storage cards that have been tested and deployed widely with our fleet and private customers.
4K Ultra HD
A market leading dash cam with the first UHD 4K resolution (front) + 1080P FHD rear system. Experience true vision quality with the all new 8MP CMOS sensor and better license plate recognition.
Cloud Compatible
See what your dashcam sees remotely - Receive impact alert Push Notifications - Save footage to the Cloud and do much more. BYO Data*
Dual Band 2.4-5GHZ
Better WiFi speeds. Download and save footage to your smartphone with increased WiFi speeds for downloading videos and connecting to your dash cam without the need for a PC!
High Efficiency Video Coding
Ultra Efficient Compression technology. H.265 means that more data can be compressed without negatively affecting video. Your 4K video files are the same as a normal 1080P file!
Built in GPS with Dual-band
The dual-band 2.4-5GHz Wi-Fi lets you download dashcam videos to a smartphone at blazing speed and allows Over the Cloud functionalities via any Internet-enabled Wi-Fi network.
Built in Impact and Motion
While driving, your BlackVue detects impacts and sudden changes in speed. While parked, it also detects movements*. Videos files are marked accordingly.
Intelligent Parking Mode
Enjoy peace of mind knowing that your car is under protection while you are away. BlackVue automatically switches to Parking Mode to monitor you parked vehicle.
Sleek Design and Controls
BlackVue DR900S' stealthy design incorporates easy access to useful functions such as proximity sensor and wifi button.
Specifications
Model Name: DR900X-2CH
Speaker: Built-in
Channel: 2 Channel (Front + Rear)
LED: Recording LED, GPS LED, Wi-Fi LED, Front Security LED, Rear: Rear Security LED
Colour/Size/Weight: Black / Width 118.5 mm x Height 36 mm / 88 g, Rear: Black / Width 67.4 mm x Height 25 mm / 25 g
Sensor: 3-Axis acceleration sensor
Memory: microSD Card (32 GB/64 GB/128 GB/256 GB)
Backup Battery: Built-in Super Capacitor
Recording Mode: Normal Recording + Event Recording (Impact Detection) + Parking Mode Recording (Impact and Motion Detection).* For Parking mode recording, a Power Magic Battery Pack or Power Magic Pro is recommended.
Button: Wi-Fi: Enable or disable the WiFi functionProximity sensor: Voice recording on/off* Touch the button or it recognises when a hand approaches to within about 2cm.
Camera: Front: 8 Megapixel CMOS SensorRear: STARVIS™ CMOS Sensor (Approx. 2.1 M Pixel)
Input Voltage: DC 12V – 24V (DC Plug: (Ø3.5 x Ø1.35), MAX 1A/12V)
Viewing Angle: Diagonal 162°, Horizontal 136°, Vertical 77°, Rear: Diagonal 139°, Horizontal 116°, Vertical 61°
Current Consumption: Avg. 380mA (4.56W at 12V, when GPS and Wi-Fi are ON)Avg. 360mA (4.32W at 12V, when GPS and Wi-Fi are OFF)* Actual power consumption may vary depending on use conditions and environment.
Voltage Cut-off: Built-in Voltage Cut-off System
11.8 Volts
12.0 Volts
12.5 Volts
Format Free: Yes (Adaptive)
Resolution/FPS: 4K UHD (3840×2160) @30fps (Extreme)4K UHD (3840×2160) @30fps**Note: Front camera resolution is fixed and cannot be changed to 1080P**
Rear Camera: Full HD (1920×1080) @30fps, * Frame rate is different during Parking mode and Wi-Fi >streaming
Operating & Storage Temp: -20℃ – 70℃
Image Quality: Highest (Extreme): 25 + 10 Mbps, Highest (12+ 10 Mbps), High (10 + 8 Mbps), Normal (8 + 6 Mbps)
High Temperature Cut-off: Approximately 80℃
Video Codec: H.265 (HEVC), H.264 (AVC), MP4 Video Formats
Certifications: FCC, CE, RoHS, Telec, WEEE, IC
WiFi: Built-in (802.11n 2.4~2.4835 GHz / 802.11ac 5GHz dual band)
Software: BlackVue Viewer* Windows XP or higher andMac OS X Yosemite (10.10) or higher
GPS: Built-in
Application: BlackVue C Application (Android 4.2 or higher, iOS 9.0 or higher)
Microphone: Built-in
Origin: Made in Korea
Warranty: 3 Year Warranty
Video File Extension: MP4
SKU: RF-DR900XP-2CH-128-INS