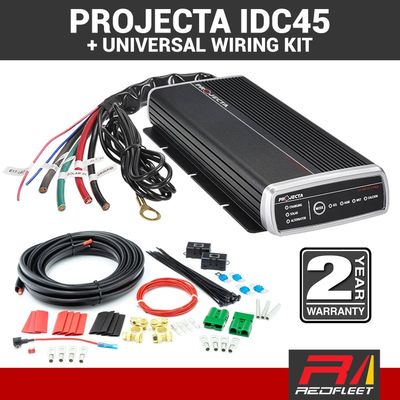 PROJECTA 45 Amp IDC45 9-32VDC In-Vehicle Battery Solar Charger with Universal Wiring Harness Kit
PROJECTA
$594.00
Why Pay $660.00
Sold
UNIVERSAL WIRING HARNESS KIT Included with every purchase.
PROJECTA IDC45 - 45A 3 STAGE INTELLI-CHARGE 9-32V DEEP CYCLE DUAL BATTERY CHARGER
A truly sophisticated dual battery management system ideal for 4WD and camper trailer applications. Provides an advanced 3 stage charge simultaneously from both solar and alternator inputs.

PRODUCT FEATURES
Engine bay installation
Sealed to IP67, the IDC is dust, splash and shock proof and can safely operate in extreme temperatures up to 80°C

Dual charging modes
Engineered to work with both smart and conventional alternators

Multi-chemistry
Set the charging profile to suit battery chemistry type: Wet, Calcium AGM or Gel

Dual input operation
Simultaneous dual battery charging from both solar and alternator inputs

Total safeguard protection
Over temperature, reverse connection, over/under and spark free protection
What's Included in the Universal Wiring Kit ?
6m Twin Core Double Insulated BLACK + RED 6 B&S 125A Rated Battery Cable
2 x MIDI Fuse Holders with Cover (6mm Bolt Points)
4 x 60A MIDI Fuses
4 x 16-6 Cable Crimp Lugs
4 x 16-8 Cable Crimp Lugs
4 x BLACK Heatshrink
4 x RED Heatshrink
3 x Cable Joiners & RED Heatshrink
2 x Battery Terminals
Pack of Automotive Cable Ties
1 x 10A Mini Blade Fuse with Tap In Fuse Holder
1 x 4m x 4mm RED Automotive Wire Cable
2 x GREEN Anderson Connectors
SKU: IDC45-WH60