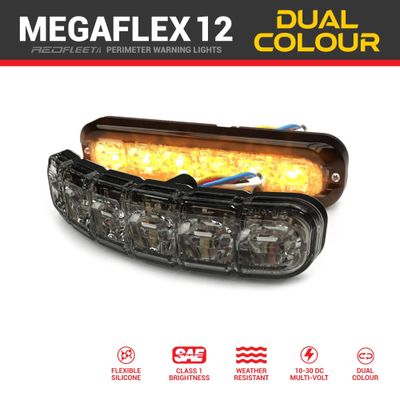 (2 PACK) MEGAFLEX 12 L.E.D. "DUAL-COLOUR" Flexible Silicone Surface Mount Perimeter Light
REDFLEET
$330.00
MEGAFLEX purchases are supplied as a PAIRED Set of Lights.
Industry's first Flexible Silicone surface mount perimeter light head! The all-new MEGAFLEX by CODE 3 features a versatile flexible design allowing the light to be mounted on flat or curved surfaces up to 120 degrees with self adhesive 3M tape.
12 High intensity L.E.D.s produces superior light output and performance in two full colours which can be also be independently controlled.
To make things easier for our customers, ULTRAFLEX ED3794 is the ECCO variant for the AMBER+WHITE model, and MEGAFLEX CD3794 is the CODE 3 variant for all other Colour Combinations including BLUE+RED, AMBER+RED and BLUE+RED.
When you purchase this product from REDFLEET, we will refer to the product as MEGAFLEX.
Technical Specifications
Silicone Lens Maximizing Durability & Flexibility
12 x High Intensity NEX-GEN L.E.D.s
Maximum 120 Degree Flexible Curve
SAE CLASS 1 Tested & Approved
IP69K Sealed for Weather, Vibration & Dust Resistance
10-30VDC Multi-Voltage Ready
0.8Amps Maximum Current Draw
69 User Selectable Flashing Patterns
Plastic Surface Mount Flange Included
Rear Double Sided 3M Adhesive Pad Included
Temperature Range of -30 to 50 Degrees Celsius
5 Year Australian Warranty
Product Dimensions
Surface Mounted @ 12(H) x 27(W) x 112(L)mm
Adhesive Mounted @ 12(H) x 23(W) x 101(L)mm
SKU: RF-MFX12D-BR-2X