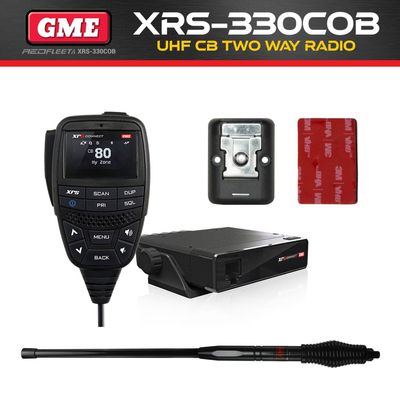 GME XRS-330COB Outback Pack UHF CB Two Way In Car Vehicle Radio
GME
$715.00
XRS-330COB Connect Outback Pack consists of an XRS-330C + AE4707B Antenna Kit.
GME is excited to introduce the brand new XRS™ Connect Outback Pack. The XRS-330COB pack is the latest addition to the revolutionary range of XRS™ Connect UHF CB radios, designed to be smart, adaptable and rugged. Enabled by Bluetooth Smart technology, the XRSTM Connect range are a new generation of connected UHF CB radios with unique features exclusive to GME; including the XRSTM Connect smartphone app, and the recently released, game-changing XRSTM Connect Location Services, Voice Playback and Active Mute. Combined with a market-leading speaker microphone featuring a bright, anti-glare OLED display and powerful 2 watt front-facing speaker, the XRSTM Connect range of radios offer outstanding performance in the toughest conditions.
The XRSTM Connect Outback Pack pairs the popular XRS-330C Super Compact UHF CB Radio, with the new medium duty AE4707B radome antenna, providing the perfect solution for those users looking for the ultimate communications set-up ready to hit the rugged Australian outback.
XRS-330C Product Details:
Bluetooth Wireless technology – Smartphone Control
Professional grade OLED Speaker Microphone
Class-leading 2 Watt Front-facing Speaker
User-customisable Buttons
Super Compact Design
XRS-330COB In the Box:
XRS-330C Super Compact UHF CB radio
Professional-grade Speaker Microphone (MC664B)
Includes 59cm 2.1 dBi AE4707B Black Radome Antenna
12V DC Power Lead• Mic Extension Lead (LE040)
Mic Extension Adaptor Kit (AD008)
Quick Start Guide
Optional Add-On 96cm 6.6dBi AW4702B Black Radome Whip
SKU: XRS-330COB-MB042B