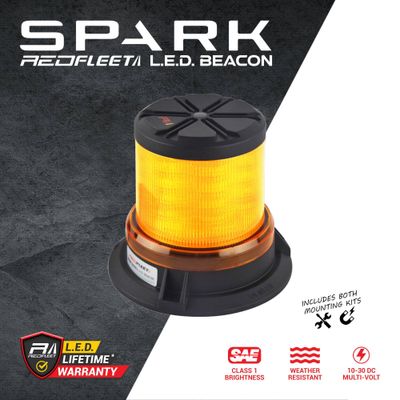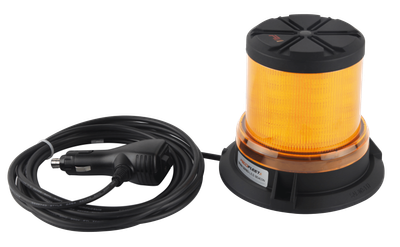 SPARK Series 24 L.E.D. Amber Beacon Flashing & Rotating​ Light "SAE CLASS 1"
REDFLEET
$660.00
This product option is unavailable. View other options.
SPARK 24 L.E.D. Beacon by REDFLEET is a powerful and reliable 360 degree visual warning product available in AMBER YELLOW ORANGE for any commercial, roadworks, maintenance and service utility vehicles in Australia.

Measuring in at 120mm tall, the SPARK 24 mid profile beacon features exclusive micro optic reflector design producing a true 360 degree warning signal light that appears larger and fuller especially from greater distances away. SPARK 24 Beacons provide superior daytime performance at an affordable price point making it a smart choice for your vehicles.

When comparing to other beacons, the SPARK Series beacons feature the latest L.E.D. technology and 100% solid state electronics design with no moving parts or globe replacements ever required. Users can easily select flashing, rotating or combination patterns at different speed levels for each unique application. SPARK beacons are factory tested to meet and exceed SAE J845 Class 1 performance standards.
Technical Specifications
SAE J845 Class 1
ECE R65 Class 2
MAX 3A @ 12VDC
24 Long Life Colour Rich L.E.D.s
12 Watt High Intensity Brightness
Superior Day Time Clarity & Performance
Visibly Larger Illuminated Signal Profile
10-30VDC Multi Voltage Suitable
User Selectable Flashing & Rotating Patterns
Exclusive Micro Reflector Optics Design
UV Stabilised PC Lens
IP66 Weather Resistant
100% Solid State Technology
No Replacement Globes or Gears Required
3 Bolt Fixed Mount or Magnetic Mount
Dimensions 120(Height) x 130 Base & 90 Lens(Diameter) mm
Wiring Diagram
Black = Ground Negative
Red = +10-30V Positive On/Off
Yellow = Pattern Select on Momentary Red
Please select your product warranty option to suit your unique budget.
SKU: RF-S243B-AA-6PK