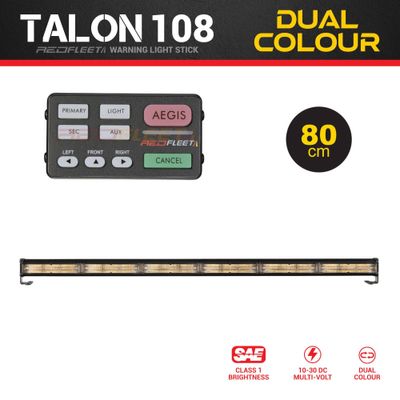 TALON 6 Head 108 L.E.D. Full Dual Colour Directional Warning Smart Light Stick
REDFLEET
$748.00
TALON Series Smart Light Sticks are now available in a 6 head configuration. This new size allows TALON smart sticks to be compatible with a larger variety of vehicles such as hatch backs and small SUVs.
TALON Series directional warning light stick with exclusive ARC wide-angle internal reflector optics design for superior daytime performance and visibility. Featuring full Dual Colour configuration, TALON series lights produce two full colours in every module and with it's unique low profile compact design, the TALON light stick can be installed in both internal and external applications with zero compromises on performance and visibility when activated.
The All-New TALON Series directional warning light sticks have set a new industry standard in Australia for performance, quality and full dual-colour capability.
Product Features & Technical Specifications
108 x Superior Daytime Performance LED's (6 Head Modules)
Full Dual Colour Configuration
Programmable Independent or Alternating Colour Control
Traffic Directional Modes (Left, Right & Centre Out)
20+ User-Selectable Flashing Patterns
Exclusive ARC Wide-Angle Internal Reflector Optics Design
Brightness Rating: Suitable for Daytime Applications
Low Profile Compact Size
IP67 Encapsulated Internal Electronic Components
Synchronise Multiple TALON Units
Colourless When Not Illuminated
ECE R65 & SAE J595 Certified
10-30 Multi Voltage Ready
Suitable for Internal/External Applications
100,000 Operational Hours with Long Life LED Technology
Maintenance Free Solid State Technology
PREMIUM 6 or BASIC 12 Months Product Warranty
Dimensions:

TALON Stick 800(L) x 60(W) x 40(H)mm
Wiring Instructions
Black = (Negative) Ground
Red = (Positive) Power Supply
Purple = (Positive) Power On/Off (Colour 1)
Brown = (Positive) Power On/Off (Colour 2)
***Purple + Brown combined will produce Alternating Colour Mode
Yellow = Pattern Change (Negative Trigger) + Group Sync

Pattern Change when momentarily applied to (Negative Trigger)
Synchronise Multiple TALON Series lights by connecting all the Yellow Wires together

Blue = Dimming Mode when applied to (Positive)
White = Steady-On when applied to (Negative)
Orange = Left Arrow when applied to (Positive)
Green = Right Arrow when applied to (Positive)
***Green + Orange combined will produce Centre-Out Directional Mode
SKU: RF-TLN96D-ABR