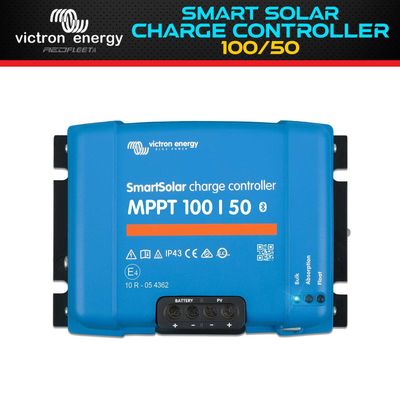 VICTRON SMARTSOLAR MPPT 100V/50A Solar Battery Charger Controller 12/24V DC Bluetooth
VICTRON
$443.00
Why Pay $495.00
MPPT controllers operate solar panels at their Maximum Power Point improving efficiency up to 30% by adjusting input voltage to harvest the maximum power from the solar panels. It then manages this power to supply the varying voltage requirement of the battery plus load.
The MPPT senses when to adjust the output that it is being sent to the battery and will shut down for a few microseconds, calculate and make relevant adjustments. The principle of MPPT is to extract the maximum possible power from a solar panel by setting the most efficient combination of voltage and current - maximum power point.
The Victron MPPT SmartSolar support Advanced Maximum Power Point Detection. Unlike the conventional MPPTs which tend to lock to a local MPP when shady conditions occur, [which may not be the optimum MPP], Advance Maximum Power Point Detection will harvest maximin energy by locking to the optimum MPP.
Internal temperature sensor provides additional electronic protection
Over-temperature protection and power derating when temperature is high.
PV short circuit and PV reverse polarity protection.
PV reverse current protection.
Other features:
With no cooling fan the maximum efficiency exceeds 98%.
Flexible charge algorithm provides functionality for fully programmable charge algorithm, and eight preprogrammed algorithms, selectable with a rotary switch
Built-in Bluetooth along with the VictronConnect App provides easy access to the extensive range of functions available on your solar charge controller such as:
Solar Gauge – Realtime power output
Battery Voltage
Battery Current
Battery State
History Analysis
Various Settings
Specifications:
Battery Voltage: 12/24v Auto Select
Rated charge current: 50A
Nominal PV power, 12V 1a,b): 700W
Nominal PV power, 24V 1a,b): 1400W
Maximum PV open circuit voltage: 100V
Max. PV short circuit current 2): 60A
Maximum efficiency: 98%
Self-consumption: 12V: 30 mA 24V: 20 mA
Charge voltage 'absorption': Default setting: 14.4V / 28,8V (adjustable)
Charge voltage 'float': Default setting: 13.8V / 27,6V (adjustable)
Charge algorithm: Multi-stage adaptive
Temperature compensation: -16mV / °C resp. -32 mV / °C
Protection: Battery reverse polarity (fuse, not user accessible), PV reverse polarity, Output short circuit, Over temperature
Operating temperature: -30 to +60°C (full rated output up to 40°C)
Humidity: 95%, non-condensing
Data connection port: VE.Direct
Protection category: IP43 (electronic components), IP22 (connection area)
Weight: 1.3 KG
Dimensions (H x W x D): 130 x 186 x 70 mm
Safety: EN/IEC 62109-1, UL 1741, CSA C22.2
SKU: SCC110050210