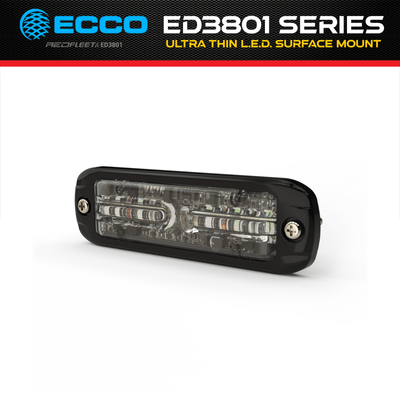 ECCO ED3801 Ultra-Thin Directional Amber Surface Mount L.E.D.
CODE 3 ECCO
$0.00
Sold
ED3801 and ED3802 directional LEDs are bright and versatile warning lights suited to a wide variety of applications. Their ultra-low profile makes them easy to install virtually anywhere on a vehicle and are 25% thinner than previous models.
All models offer wide angle optics and multiple flash patterns, including synchronisation with other units for simultaneous or alternating operation. Each LED colour can be controlled independently.
Features:
• 12-24 VDC
• 25% thinner than previous models
• High-intensity LEDs provide exceptional warning
• Ultra low-profile surface mount
• Synchronisable
• Die-cast base with polycarbonate lens
• Temperature Range: -22ºF to +122ºF (-30ºC to
+50ºC)
Specifications:

Mount: 2 Bolt
Approval: SAE CLASS 1, IP69, IP67, R10
Height: 36mm
Length / Width: 121mm
Depth: 9mm
Voltage: 12-24V
AMPS: 0.76
Warranty: 5 Years
SKU: ED3801A