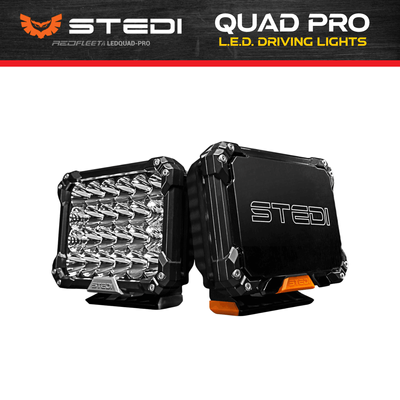 PAIRED SET of QUAD PRO STEDI L.E.D. High Performance Driving Spot Lights
STEDI
$528.00
Why Pay $529.99
Paired Set of QUAD Pro LED Driving Lights by STEDI.
Each Paired Set includes the very popular STEDI DUAL CONNECTOR PLUG & PLAY SMART HARNESS™ HIGH BEAM DRIVING LIGHT WIRING


WHAT'S INCLUDED
2 x QUAD Pro LED Spot Lights
2 x STENCIL Black Out Covers
1 x Set Orange Colour Caps (fitted)
1 x Set Grey Colour Caps
Easy Fit High Beam Wiring Harness
H4 & HB3 adapters to High Beam
Installation Manual
Stainless fitting hardware
The compact-LED driving light space has been fearfully neglected, with offerings looking as underwhelming as their inability to sustain a compact performance. Enter the all-new STEDI QUAD Pro.
The QUAD Pro is the continuation of the high-calibre class of the PRO bloodline. Sharing the legendary performance of the Type-X Pro and ST3303 Pro, the QUAD Pro utilises the same reflector and LED technology, to deliver an explosive performance.
Included in the kit is a pair of STEDI blackout cover, in addition to the orange and grey colour customisation caps. The iconic STEDI Smiley covers are available to purchase separately, as are blue, green, red, and yellow colour caps.
Our Quads showcase a glistening 5700K colour temperature, providing the necessary luminance to cut-through any obstrusive dust and other air-born particles.
The compact housing design offers endless possibilities in terms of mounting locations. We think these are going to be hugely popular as roof-mounted arrays and on bull bars with minimal clearance like the AFN bars.

QUAD PRO L.E.D. Specifications
Includes our legendary Easy-Fit plug and play high beam wiring harness
IP68 Ingress protection means our QUADS are 100% immersible in water and dust-tight.
5700K Colour temperature provides just the right amount of warmth to cut-through air-born particles.
Environmentally sealed Deutsch DT connectors
RFI and EMI suppressed circuit design, means no interference with radio or communications equipment.
High-Pressure Die-Cast Bracket
Spread and Spot beam reflectors built-in.
More information available on Manufacturer's Website.
SKU: LEDQUAD-PRO