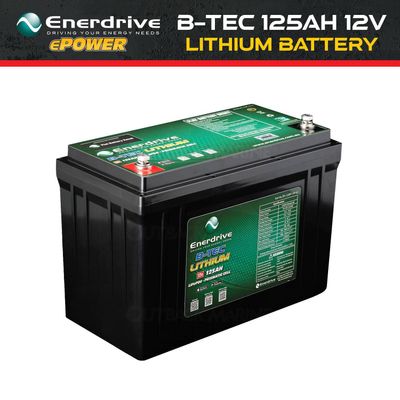 125Ah 12V DC ENERDRIVE Gen2 B-TEC LiFePO4 Lithium Battery
ENERDRIVE
$1,700.00
Why Pay $1,999.00
Enerdrive B-TEC LiFeP04 12v 125Ah G2 Lithium Battery
Available in 12v 100Ah, 125Ah, 200Ah and 300Ah capacities and 24v 100Ah & 36v 100Ah, the ePOWER B-TEC lithium battery is designed and intended for use in deep cycle applications where a single battery is required that meets the amp hour capacity.
STOCK STATUS - Lithium Batteries are restocked regularly however there may be instances where our suppliers are out of stock for an extended period. Please give us a call to check on stock before you place an order so that customer expectations can be managed.
REMOTE / RURAL / REGIONAL DELIVERIES
Please note that if your delivery address is considered as REMOTE / RURAL / REGIONAL, there may be additional delivery charges that we have to share with you. We do our best to provide low cost delivery but from time to time, the delivery fee for your address is 5 to 6 x more than the average amount.
Smart Phone Monitoring System
The Enerdrive Enerdrive B-TEC G2 battery incorporates wireless Battery Monitoring Technology. By downloading the Android™ or Apple® app to your smartphone or tablet device, you can monitor the following information;
Battery Capacity
Battery Voltage
Battery Current (Amps)
Battery State of Charge (SOC)
Battery State of Health (SOH)
Battery Status
Individual Cell Voltage
Battery Temperature
Battery Cycles
Battery Alarms
Battery Event Information
Battery Management System
The battery is also equipped with an internal Battery Management System that can monitor and optimise each Prismatic cell within the battery during normal operation. It will protect the battery pack from over charge, over discharge, over temperature & short circuit. The BMS helps to ensure safe and accurate operation of the battery.
Size & Weight Savings
Lithium v AGM Capacities;
100Ah Lithium = 160Ah AGM
125Ah Lithium = 200Ah AGM
200Ah Lithium = 320Ah AGM
300Ah Lithium = 480Ah AGM
(Based on standard depth of discharge for both Lithium (80%) and AGM (50%).
The Enerdrive B-TEC battery provides 60% more usable power than its equivalent lead acid cousin and being nearly 50% lighter and 30% smaller makes for a superior alternative.
The G2 now incorporates a "Built-In Reset Button" making re-starting a flat battery a breeze. No longer do you need to apply a voltage to the battery terminals to wake up the battery. Press the button and within seconds, the battery will come back to life ready to accept a charge source to rejuvenate the battery.
The Enerdrive B-TEC battery is perfect for camper trailers, 4WD's (AUX battery), caravans, small water craft, low power communication sites or any other application that requires the use of a single deep cycle battery that meets the amp hour capacity.
With over 7 years of researching, designing and testing lithium batteries and the associated charging systems, Enerdrive are at the forefront of lithium battery systems in Australia. Enerdrive are the only Australian company that can supply a fully integrated self-branded energy system to suit your setup.
With over 3000 complete systems in operation Australia wide, Enerdrive is regarded as the leader in the field of lithium batteries and energy systems for Mobile, Marine and Remote applications.
Please Note; The B-TEC battery is capable to be paralleled to a second B-TEC battery of the same size. For maximum performance and lifespan of your B-TEC battery, no more than 4 batteries should be connected together to increase your overall capacity. Overall loads when paralleled should not exceed the current limits of a single batteries BMS.
The 125Ah G2 battery is able to accept a maximum inverter capacity of 1000W only. Exceeding the maximum inverter capacity can damage the BMS Management within the battery.
If you are requiring a battery system larger than Enerdrive B-TEC battery, please look at the Enerdrive Pro Series Power Pack Systems which can offer multiple parallel and series connections with Active Cell Balancing Protection across the entire pack.
Please note B-TEC batteries must not be installed –
In vehicle engine bays or in high heat environments, refer to Section 10 – Battery Specifications of the manual.
In wet areas such as caravan chassis mounts, open ute trays or boat deck areas.
Inside compartments dedicated to carrying gas.
This product is not suitable to mount anywhere with a possibility of being exposed to the elements. It is an electronic product designed for internal use ONLY.
SKU: EPL-125BT-12V