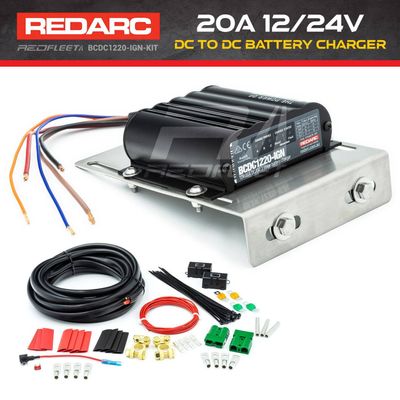 REDARC 20A BCDC 12V / 24V DC to DC Dual Battery In-Vehicle Charger with Universal Bracket Wiring Kit
REDARC
$572.00
Why Pay $638.00
Sold
UNIVERSAL WIRING HARNESS + MOUNTING BRACKET Included with every purchase.
The REDARC BCDC1220-IGN is a 12 Volt 20 Amp In-vehicle DC DC charger featuring technology designed to fully charge a lead acid auxiliary battery. It's suitable for vehicles fitted with an ECU-controlled variable voltage alternator.
The BCDC1220-IGN features a lower voltage setting so it can continue to operate with a low input voltage from the alternator.
The BCDC dual battery charger will work with a wide operating range (9 – 32V) giving the option of charging from both 12V and 24V vehicle systems.
By providing a unique charging profile to each specific battery type, the BCDC charger is able to achieve and maintain an optimal charge in auxiliary batteries whilst on the move. It will allow you to charge an auxiliary battery that is a different characteristic to the start battery.
The unit will act as a dual battery isolator and protect the start battery, should the voltage get too low.
Proven and Tested
Compact in size, easy to install and fully sealed - water, dust and vibration are no match for the in-vehicle DC smart charger. It can handle the roughest tracks in outback Australia and even deep water crossings at Cape York. The BCDC DC to DC battery charger is suitable for installation in harsh environments or marine applications.
With an ever-increasing number of electrical accessories and devices being used when travelling around Australia, along with more complex vehicle electrical systems than seen in years gone by, having the right battery charging solution has never been more important.
Designed, built and tested in Australia for our unique conditions, the BCDC in-vehicle DC to DC charger won't let you down.
Features
Multi-Stage DC to DC Battery Charger
Start Battery Isolator
Fully sealed
No fan for super-quiet operation
Charges AGM, Gel, Calcium content, VRLA and Standard Lead Acid batteries
Works with Variable Voltage Alternators
What's Included in the Universal Wiring Kit ?
6m Twin Core Double Insulated BLACK + RED 8 B&S 74A Rated Battery Cable
2 x MIDI Fuse Holders with Cover (6mm Bolt Points)
2 x 40A MIDI Fuses
2 x 30A MIDI Fuses
4 x 16-6 Cable Crimp Lugs
4 x 16-8 Cable Crimp Lugs
4 x BLACK Heatshrink
4 x RED Heatshrink
3 x Cable Joiners & RED Heatshrink
2 x Battery Terminals
Pack of Automotive Cable Ties
1 x 10A Mini Blade Fuse with Tap In Fuse Holder
1 x 4m x 4mm RED Automotive Wire Cable
2 x GREEN Anderson Connectors
SKU: BCDC1220-IGN-KIT