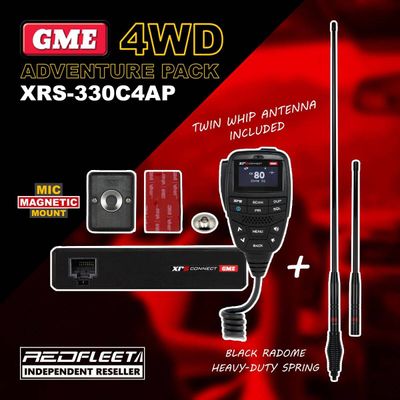 REDFLEET EXCLUSIVE - GME 4WD ADVENTURE PACK XRS-330C4AP
GME
$795.00
Why Pay $995.00
REDFLEET EXCLUSIVE - GME 4WD ADVENTURE PACK XRS-330C4AP is the perfect 80 Channel UHF CB Radio and Twin Whip Black Radome Antenna kit from GME!
The high gain long whip is best suited for flat terrain locations whilst the shorter whip is most suitable for hilly terrain or in town applications. The AE4705BTP from GME gives you the best of both worlds!
You get the BONUS MB207 Magnetic Mic Mount too with this kit.
What's Included in your REDFLEET Adventure Pack:
1 x GME XRS-330C4AP

XRS-330C 80 Channel UHF Two Way Radio
AE4705BTP Black Radome Twin Antenna Kit
MB207 Magnetic Mic Mount

1 x Free Delivery with Tracking within Australia

Optional Insured, Express & Courier Service Available
SKU: XRS-330C4AP