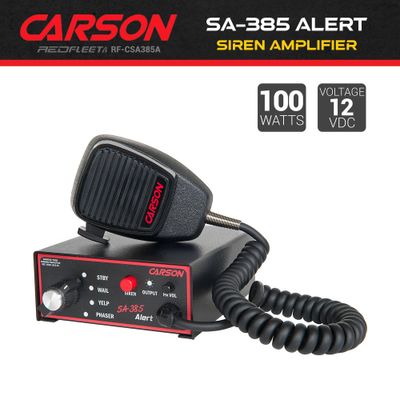 CARSON SA-385 ALERT 100 Watt Siren Amplifier with Public Address Speaker Microphone
CARSON
$660.00
Why Pay $695.00
The SA-385 Alert siren gives you just what you need, because you shouldn't have to pay a premium for features you rarely use! That's why the SA-385 has been engineered to offer only the most highly desired features and functionality, while eliminating those price inflating "bells and whistles" that are common on many sirens today.
The rugged, no-nonsense SA-385 incorporates the same full-featured siren options as its predecessor, the SA-380 Alert, including a four-position rotary switch to select between wail, yelp, and phaser, or optional Two-Tone/HiLo siren tones with Manual and Air Horn override; a P.A. system with noise-canceling microphone and face mounted volume control; an output indicator light on the face for diagnostics; external DIP switches for easy siren customization;
Horn Ring Cycler 2 (HRC2) functionality that enables the driver hands-free control of the siren by cycling through the tones with the vehicle's horn; Instant-On; and an exposed in-line fuse to protect the siren.

SA-385 Alert Siren Enhances Operation and Installation
The NEW Alert has also been upgraded with new features designed to enhance siren operation and increase ease of installation. These features include making Instant-On operation a standard requiring no enable input; terminal block wiring which offers simple, plug-in connection; and a significant reduction of the internal electronics footprint giving the SA-385 a much smaller chassis size.
Compact 100-watt amplifier
Four-position rotary switch features Wail, Yelp, and Phaser or optional Two-Tone/HiLo siren tones, and push-button override for Manual and Air Horn
P.A. override with attached noise-canceling microphone and face mounted volume control knob
External DIP switch programmability for easy siren customization
Instant-On provides automatic power when a siren function is selected
Output indicator light for diagnostics
Horn Ring Cycler 2 (HRC2) enables siren tone selection through the horn ring for pursuit or rescue situations
LED backlighting
Terminal block wiring for easy installation and serviceability
Exposed in-line fuse to protect the siren
Short circuit, high voltage and reverse polarity protection systems
Mounting brackets and hardware for siren and P.A. microphone
41/2″ W x 1 15/16″ H x 4 9/16″ D
No-hassle 3-year limited warranty
Meets Class A Sound Level and is California Title 13 configurable
SKU: RF-CSA385A