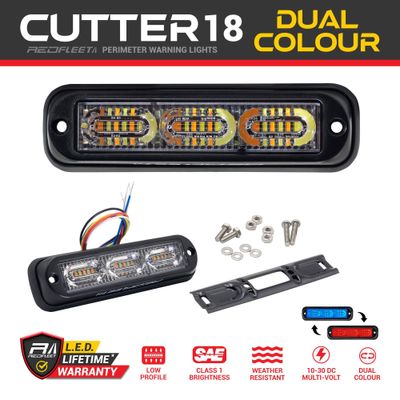 CUTTER 18 L.E.D. (DUAL-COLOUR) Low Profile Surface Mount Perimeter Light
REDFLEET
$187.00
2022 Upgraded CUTTER 18 L.E.D. for AMBER + WHITE and BLUE + RED variants only.
The all new 2022 CUTTER Series utilizes 18 high powered NEX-GEN L.E.D.s with improved onboard circuitry for maximum performance and light output. Featuring full DUAL-COLOUR functionality, CUTTER lights feature independent & alternating colour control with flashing & steady-on modes in two distinct colours. A truly versatile platform, the CUTTER light produces a wide-angle light output in a low profile polycarbonate design harnessing the latest generation L.E.D. technology with 100% solid state design and no moving parts.
Product Features & Technical Specifications
18 x Ultra-High Intensity L.E.D.s (9 x Diodes per colour)

Please note that Single Colour Amber units have 9 L.E.D.s
Previous generation CUTTER 12 features 6 x Diodes per colour

Full Dual-Colour Ready with Independent & Alternating Functions
15+ Self Drive Flashing Patterns
Hybrid Wide-Angle Reflector Optics
BRIGHTEST Daytime Performance
Low Profile Housing Design
2 Full Colours per Unit (Not Split Half Half)
Synchronise Multiple Units of CUTTER / TALON / HD
Colourless When Not Illuminated
SAE J595 Class 1 Approved
ECE R65 + R10 Certified
10-30 Multi Voltage Ready
IP66 Dust Vibration & Water Resistant
Temperature Range -30˚C to +50˚C
100,000 Hours with Long Life LEDs
Maintenance Free Solid State Design
Premium 6 Year Warranty
Dimensions: 118(L) x 29(W) x 12(H)mm
*UPDATED APRIL 2020* WIRING CONFIGURATION
BLACK = Negative Ground
RED = Apply to Positive to Activate Warning Colour 1
PURPLE = Apply to Positive to Activate Warning Colour 2
YELLOW = Apply to Negative for Steady-On *PRIORITY MODE*

Steady-On Colour can be selected by momentarily triggering Blue Wire whilst this mode is Active
Steady-On control wire will override all other active functions

BLUE = Momentarily Apply to Negative to Cycle Flash Pattern

Connect Blue Wires from multiple Cutter Lights to Synchronize

WHITE = Apply to Negative for Night Mode Dimming
***When RED + PURPLE Wires are connected together, the 2 Colours will Flash in an Alternating Pattern***
For more information, or "Quantity Discount" please get in contact with our team.
Thank you for supporting a local Australian Brand & Company, we here at REDFLEET appreciate your business and we aim to deliver our products at the most competitive prices.
We won't be beaten on PRICE within all States & Territories of Australia.
SKU: RF-CT12D-AR-2X