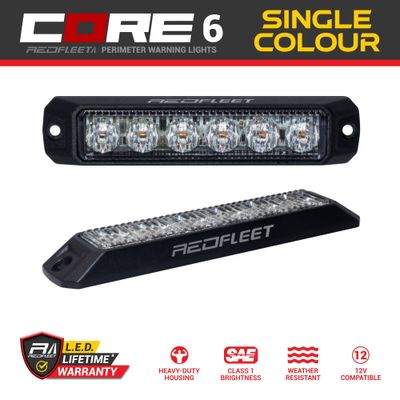 CORE 6 L.E.D. AMBER 12V DC Low Profile Surface Mount Perimeter Light
REDFLEET
$495.00
CORE Series 12V DC ONLY
Introducing our all-new CORE Series, REDFLEET's low cost Low Profile Surface Mount Perimeter Warning Light suitable for your fleet of work vehicles available in both Single AMBER and Dual AMBER + WHITE L.E.D. Colour configurations.
Featuring a die-cast alloy housing combined with durable poly-carbonate optical lens, the CORE Series is designed for work vehicles that require a powerful warning signal. Using the latest long life L.E.D. techonology and circuit board design, CORE Series lights generate an ultra high intensity warning light exceeding all Australian benchmarks set by competitor products.
Backed by our REDFLEET L.E.D. Lifetime* Warranty, CORE Series is the best value for money choice for an effective and powerful warning light!
Product Features & Technical Specifications
Dimensions: 130(L) x 28(W) x 12(H)mm
High Intensity L.E.D. Configurations

6 L.E.D. for Single Colour
12 L.E.D. for Dual Colour

User Selectable Flashing Patterns

15 x for Single Colour Mode
10 x for Dual Colour Mode

Superior Daytime Performance
Low Profile Heavy Duty Alloy Housing Design
Durable Poly-Carbonate Lens
Directional Internal Reflector Optics
Available in Solid or Dual Colour Configurations
Synchronise Multiple Units
Colourless When Not Illuminated
SAE J595 Class 1 Approved
ECE R65 + R10 Certified
12V DC ONLY
IP67 Dust, Vibration & Weather Resistant
Temperature Range -30˚C to +50˚C
Low Current Long Life L.E.D.s
Maintenance Free Solid State Design
MY23 WIRING CONFIGURATION
BLACK = Negative Ground
RED = Activates Colour 1 (Positive Constant)
BLUE* = Activates Colour 2 (Positive Constant)
YELLOW = Pattern Select (Positive Momentary)

Combine YELLOW Wires for Synchronise Function

WHITE = Dimming by 30% (Positive Constant)
SKU: RF-C6S-AA-10X